Christmas Confessions and Cocktails by Vicki Lesage – Book Review
Christmas Confessions and Cocktails by Vicki Lesage – Book Review
The twenty-five stories in this holiday collection, Christmas Confessions and Cocktails, take you on an adventure full of Christmas spirit (and spirits, including Christmas cocktail recipes like Christmas Cookie Martini, Peppermintini, and Glitter & Gold). And it makes the perfect Christmas gift!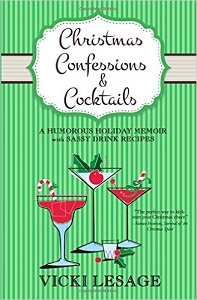 Christmas Confessions and Cocktails
Author – Vicki Lesage
Publisher – CreateSpace
Pages – 248
Release Date – 24th July 2015
Format – ebook, paperback
Reviewer – Stacey
I received a free copy of this book
This post contains affiliate links

American-turned-Parisian Vicki tells it like it is, from her crazy Christmases growing up in the Midwest to her even crazier holidays in her new home in France. Bizarre gifts, stomach-turning food, and holiday travel disasters are just some of the tales you'll chuckle at in this instalment of the Paris Confessions series.
This Christmas-themed memoir features 25 funny and heart-warming essays, all with a tenuous tie to Christmas, and pairs each with a delicious drink recipe. So grab your Martini shaker and get ready for tasty cocktails and hearty laughs this holiday season with Christmas Confessions and Cocktails!

Christmas Confessions and Cocktails is a little 'cracker' of a book (sorry, I couldn't resist!). It contains 25 unique short stories about the author's life, all with the underlying theme of Christmas.
Vicki Lesage takes you on a journey in to her memory box, and unlocks the hidden treasures that will have you laughing or cringing all the way through.
The stories have a natural flow to them, and you feel like you are listening to Vicki perform a stand-up routine, more than actually reading about her life on paper. I love how she views the world and can make any subject matter seem engrossing.
The book is absorbing and I found myself doing that 'one-more-chapter' routine, right the way to the end. Turns out that I devoured the book in one sitting. I was genuinely that hooked and interested in Vicki and her family, both close and extended, whom I must say sound like a great bunch of people to share Christmas with.
At the end of each uniquely named chapter there is a much-loved cocktail recipe, tried and tested by Vicki, that ties in nicely with her story. I haven't personally tested any yet, but I have my eye on a couple – 'Skinny French Martini' and 'Appletini'.
Christmas Confessions and Cocktails is fun and engaging, and had me in fits of giggles at times – "It's not a fart. It's a baby". It's a chick lit, memoirs kind of book, that got me in the mood for Christmas and reminded me to treasure those special and daft moments in life.
I just hope that Vicki has plenty more fun and daft Christmas moments, as I would love to read about them.
Book Reviewed by Stacey
Purchase Links


All I Want for Christmas
Apparently French kids are perfect, well-behaved angels. There's even an entire book about it. Though of course I didn't write it!
No, my two French-American sweeties are cute and lovable and absolutely wonderful, but I'm not sure "well-behaved" is an adjective I'd used to describe them. "Energetic" and "rambunctious" are more like it.
But my French parents-in-law didn't seem to get the memo. They think their grandchildren are perfect angels. Thus why they foolishly proposed an outing to the toy store "so the kids can pick which gifts they'd like for Christmas." I covered my eyes and crossed my fingers, going along with the crazy plan and hoping for the best.
Upon arrival, my 18-month-old daughter immediately spotted a baby stroller. "Bébé!" she shouted, before swiftly tossing her stuffed animals into the stroller and dashing off like a madwoman through the store. She knocked over a few displays with an errant wheel here and there, but for the most part the stroller actually managed to keep her busy without allowing her to cause too much destruction.
Meanwhile, my 3-year-old was methodically walking up and down each aisle. "I want this and this and that and that. I already have this, I don't need that. Then I'd also like this and this and that and that. Please," he smartly added. Grand-père took copious notes. Grand-mère dug around in her purse for extra paper. The list was growing quite long.
My husband got distracted by the Lego. "They have Scooby Doo and Star Wars and Ninja Turtles! It's incredible! They didn't have all this when I was a kid."
After both kids (three, if you count my husband) had covered every square foot of the store, I surveyed the damage. Surprisingly little, though I was still out of breath from having chased my daughter and that blasted stroller around.
"And Vicki, what would you like?" my mother-in-law asked.
"A case of wine. And a chance to sit down."
"I think we can arrange that," she said with a wink and a smile.
She stuffed the scraps of paper back in her purse, and I sensed we'd all be getting exactly what we wanted this Christmas…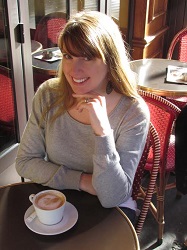 Best-selling author Vicki Lesage proves daily that raising two French kids isn't as easy as the hype lets on. In her three minutes of spare time per week, she writes, sips bubbly, and prepares for the impending zombie apocalypse.
She lives in Paris with her French husband, rambunctious son, and charming daughter, all of whom mercifully don't laugh when she says "au revoir." She penned the Paris Confessions series in between diaper changes and wine refills. She writes about the ups and downs of life in the City of Light at VickiLesage.com.
www.vickilesage.com
@vickilesage
Facebook
Pinterest
Goodreads

"Christmas is a few days away!" I said, giddy with excitement. "What kind of cookies do you want to leave out for Santa?"
Mika stared back at me blankly.
"You know… how we leave out milk and cookies for Santa Claus on Christmas Eve?"
Still no clue.
"I know Leo is a bit young but it's an excuse for us to eat cookies!"
"Sorry," he said, snapping out of it. "I was confused. In France we leave out carrots and water. For the reindeer."
No wonder the French are so skinny.
If that was the tradition in the U.S., not only would we have less of an obesity problem, but I might not have ever figured out Santa wasn't real.
Each Christmas, Stephen and I would faithfully set out cookies and milk, selecting different treats each year so that Santa wouldn't get bored.
"Should we give him Oreos or Pitter Patters?" I asked my four-year-old brother one holiday season.
He pondered the question with the seriousness it deserved. "We got Oreos last year. What about Chips Ahoy? They're the yummiest!"
"Yeah! Mommy, can you please buy Chips Ahoy for Santa?" I asked.
"Sure, honey."
Except she didn't. 'Twas the night before Christmas and all through the house, not a Chips Ahoy was in sight, nor Nestle Tollhouse.
"Mommy, what's this?" I asked, eyeing the plate of Fig Newtons set out next to a glass of water.
"I thought Santa might want something different this year. He'll like it, you'll see."
Nobody liked Fig Newtons except Mom. And water? Who preferred water with cookies when you had the choice of milk? Except for Mom.
Wait a minute…
At six years old, I wasn't 100% positive about my assumption. Plus, I didn't want to sabotage my chance of getting gifts if there really was a Santa Claus. I decided to play along, just to be safe.
The next morning, bountiful presents were packed under the Christmas tree. Whew, Santa had come after all.
But then I discovered a second clue. "Mommy, Santa Claus has the same handwriting as you," I said, pointing to a gift tag.
"What a coincidence!"
"And he liked Fig Newtons and water, just like you."
"Well isn't that funny!"
"Yes, that is funny." I was on to her but didn't want to ruin Stephen's fun.
But he was on to her, too. "Wait a minute, Mommy. Are YOU Santa Claus?"
She was caught red-handed.
If only we had set out carrots and water for the "reindeer," we kids would have never been the wiser. Because if there's one thing Mom likes more than Fig Newtons (and one thing even more boring than Fig Newtons), it's carrot sticks.