The TV Detective by Simon Hall – Book Review
The TV Detective by Simon Hall – Book Review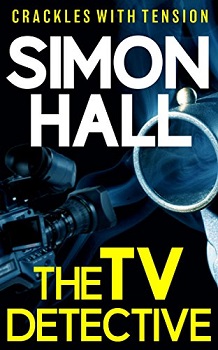 The TV Detective
Author – Simon Hall
Publisher – Fahrenheit Press
Pages – 290
Released – 22nd March 2018
ISBN-13 – 978-1912526109
Format – ebook, paperback
Reviewer – Stacey
Rating – 4 Stars
I received a free copy of this book
Post contains affiliate links.
Dan Groves is a television reporter newly assigned to the crime beat and not at all happy about it.
Dan knows next nothing about police work or how to report on it, so when he persuades Detective Chief Inspector Adam Breen to allow him to shadow a high-profile murder inquiry it seems like the perfect solution. Sadly for Dan it soon becomes clear some members of the police force have no intention of playing nice with the new boy.
With his first case Dan is dropped in at the deep-end. A man is killed in a lay-by with a blast through the heart from a shotgun. The victim is notorious local businessman Edward Bray, a man with so many enemies there are almost too many suspects for the police to eliminate.
As tensions rise Dan comes close to being thrown off the case until the detectives realise that far from being a liability, Dan might actually be the key to tempting the murderer into a trap.

Journalist and TV reporter Dan Groves normally works on environmental issues, but with Christmas fast approaching and no-one to cover a crime story, Dan is thrown in at the deep end. However, his tactics of getting a prostitute to talk about a recent spate of attacks on them see him being reprimanded.
He is taken off his normal duties in environment and given the job as Crime Reporter instead – I'm not sure whether this was supposed to be a demotion or not – Not long after being given the job a report comes in of a man being shot and killed.
Dan races to the scene, but it seems he is too late, as other journalists were given a tip-off well before Dan, and the police have already given them a statement, leaving Dan without any real information and playing catch-up.
Needing to get ahead in the game he persuades DCI Adam Breen to let him shadow him on the case.
The TV Detective is the first book in a huge series and has just been re-released by Fahrenheit Press. I'll be honest and say I've never heard of the series until I was asked if I would like to read and review the first book.
The author, Simon Hall, has spent many years as a journalist, so he knows his stuff when it comes to how the press works and the ins and outs of everyday life in the field. With this in mind, you can certainly see he has used his experience to make the book as realistic as possible.
Dan Groves is a normal, down-to-earth guy working in a profession he loves, although environmental issues are what he really loves, he makes sure that he gives his new career in crime 100%, hence the offer to shadow DCI Breen.
The pairing of the two, journalist and detective is a brilliant combination as the two bounced off one another. Their relationship is mainly what makes the book so interesting, that and the case of a man being killed that no-one likes and no-one seems to be bothered about.
This is a great start to the series. The read actually felt effortless and smooth. It is not a thriller, more of a police procedure, crime reporting book, so there aren't any edge of your seat moments, but the book had a plot entertaining enough to hold my attention for the duration.
Hopefully, I'll get to read more in the series in the future.
Reviewed by Stacey
---
Purchase online from:
---
About the Author

Simon Hall is an author and journalist.  He has been a broadcaster for twenty five years, mostly as a BBC Television and Radio News Correspondent, covering some of the biggest stories Britain has seen. Simon has also contributed articles and short stories to a range of newspapers and magazines, written plays, and even a pantomime.
His books – The TV detective series – are about a television reporter who covers crimes and gets so involved in the cases he helps the police to solve them. Seven have been published. Alongside his novels and stories, Simon is a tutor in media skills and creative writing, teaching at popular Writers' Summer Schools such as Swanwick and Winchester, on cruise ships and overseas.
Simon has also become sought after as a speaker, appearing at a variety of prestigious literary festivals. His talks combine an insight into his writing work, along with some extraordinary anecdotes from the life of a television reporter, including the now notorious story of What to do when you really need a dead otter.
Now 49 years old, he began a broadcasting career as a DJ on the radio and in nightclubs, then moved into radio and TV news. He worked in Europe, London, Ireland, and the south west of England, before settling in Cambridge.
Simon is married to Jess, Director of Libraries at the University of Cambridge, and has an adopted daughter, Niamh. She's an army officer, which makes her father both very proud and very nervous.
Simon lectures on careers in the media at Cambridge University, and in schools and colleges. Amongst his proudest achievements, he includes the number of young people he has helped into jobs in broadcasting, and aspiring writers into publication.
As for his likes, Simon lists beer – he judges at real ale festivals – cycling the countryside, solving cryptic crosswords, composing curious Tweets and studying pop lyrics.




---