Death By Slanderous Tongue by Jill Culiner – Book Review
Death By Slanderous Tongue by Jill Culiner – Book Review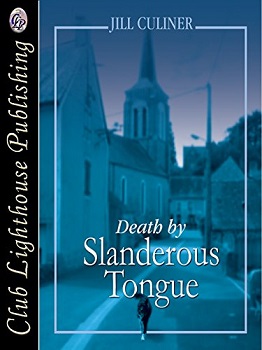 Death By Slanderous Tongue
Author – Jill Culiner
Publisher – Club Lighthouse Pub
Pages – 193
Released – 18th July 2016
ISBN-13 – 978-1537092935
Format – ebook, paperback
Reviewer – Linda
Rating – 4.5 Stars
I received a free copy of this book
Post contains affiliate links.
Welcome to Épineux-le-Rainsouin, a typical French village of yellow cement houses with PVC windows and roll-down PVC shutters. Here, village gossips observe all from behind their factory-made, crocheted curtains; intensive chicken farms produce record numbers of broilers; and culture is defined by television game shows.
When Didier, village employee, suddenly disappears, tongues wag: everyone knows he's a lady's man, too handsome, too charming for his own good. And after his body is discovered in his bath, more than one cuckolded husband sighs with relief. Equally relieved, are all the wives who knew Didier as a lover — and blackmailer.
But blackmail continues, and as village secrets are exposed, it seems unlikely that Didier's death was accidental. Before Épineux-le-Rainsouin can again settle down to its usual torpor, corruption, illegal building schemes and farming abuses, a murderer must be found.

The title gives a hint that the death might have been caused by slanderous gossip! And yes there was certainly a lot of gossip in the village in France where the story is based. A typical village where everyone knows each other, it could be England, France or elsewhere in the world where everyone's business and lives are talked about and the gossip whether true or false goes round like wildfire! We also hear about sexual exploits of some of the locals.
The books opens up in a village in France called Epineux-le-Rainsouin where most of the residents have resided for generations, and money and objects are going missing from homes and nobody knows how.
Didier, a handsome popular young man is the village 'Garde Champetre' is paid by the Mayor to keep the village clean and tidy, attending the gardens, lawns and streets, he also keeps chickens and supplies the villages with eggs. He also knows an awful lot about what goes in in the village. Didier is soon missed when he doesn't deliver the eggs and is found in his bath naked with an electric hairdryer still plugged in! Police assume he took his own life.
The book is written in the first person by a lady we only know as I, she is an amateur Ethnologist from Quebec, Canada, a keen animal rights activist and a vegetarian, these two last things make the locals suspicious of her as she is Different!
All the villagers are mystified by Didier's disappearance and death. I, intends to find out what happened as she doesn't believe it was suicide! Her other passion, which she spoke about a lot with Didier, was the intensive chicken farm in the village which Didier was very vocal about, could this have been his undoing?
With the book being written in the first person we get an unusual insight and view to the story. I also enjoyed the historical French past based on some true facts. Death By Slanderous Tongue is well written, has lots of original ideas and the plot is all centred around an adorable village. The theme and storyline are filled with sexual encounters, environment action and a murder, who could ask for more? The outcome wasn't what I was expecting, and the end has the village once more settling as if nothing has happened, life goes on…
I can certainly recommend Jill Culiner's work as this isn't the first book by this author that I have read. I thoroughly enjoyed this book and will gladly recommend it to others. I look forward to reading more from her in the future.
Reviewed by Linda
---
Purchase online from:
---
About the Author

Born in New York, raised in Toronto, J. Arlene Culiner has lived in several cars, one closet, a Hungarian mud house, a Bavarian castle, a Turkish cave dwelling, in a haunted house on the English moors, in the Sahara desert, on a Greek island, in several French villages.
She has worked as a go-go girl, belly dancer, fortune teller, translator, newspaper deliverer, radio broadcaster, contemporary artist, photographer, actress and writer.
She now resides in a 400-year-old former inn/museum in a French village of no real interest. Much to everyone's dismay, she rescues dogs, cats, hedgehogs, and protects all other living creatures — especially spiders and snakes. Her wild (or wildlife) garden is a classified butterfly and bird reserve.
She writes romances as J. Arlene Culiner, mysteries and non-fiction as Jill Culiner.





---