The Little Breton Bistro by Nina George – Book Review
The Little Breton Bistro by Nina George – Book Review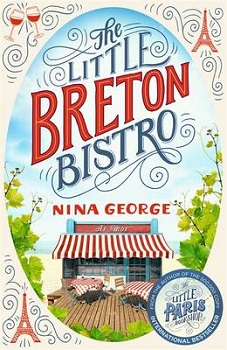 The Little Breton Bistro
Author – Nina George
Publisher – Abacus
Pages – 304
Release Date – 2nd March 2017
ISBN-13 – 978-0349142227
Format – ebook, paperback, audio
Reviewer – Stacey
I received a free copy of this book
Post Contains Affiliate Links

Marianne Messman, a housewife, wants to escape her loveless marriage and an uncaring and unfeeling husband of 35 years. Marianne and her husband (army sergeant major Lothar) take a trip to Paris, during which Marianne leaps off the Pont Neuf into the Seine, but she is saved from drowning by a homeless man.
Angered by her behaviour, major Lothar takes a coach trip back home to Germany, expecting that a psychologist will escort Marianne home a few days later. However, Marianne comes across a hand-painted scene of the tiny port of Kerdruc in Brittany, and becomes fixated with the place. Marianne decides to make her way to Kerduc, and once there meets a host of colourful characters who all gravitate around the small restaurant of Ar Mor (The Sea).
It is this cast of true Bretons who become Marianne's new family. She finds love and passion with Yann, an artist who becomes her guide to the secrets of Brittany. Before long, Marianne's husband is back to retrieve her and Marianne feels pulled towards her old life by way of duty and guilt. She leaves Kerduc and gets as far as Paris before she realises it's now or never when it comes to building the life she really wants.

Marianne has had enough of her dowdy, meaningless life. She has lived with her husband for forty years, who neither loves her, nor respects her.
On a trip to Paris with her husband, she quietly slips out of a dinner party and makes her way down to the river Seine. Carefully removing her few possessions, she jumps into the river hoping to end her life.
Unfortunately for her, she is pulled to the bank by a homeless man, and an ambulance is called, taking her to the local hospital. Once there, her husband turns up, though sorrow and pity are the last things on his mind. He is upset with her, telling her what she has attempted will look bad on him. He also decides that she needs to see a psychologist.
Marianne then comes across a tile with the beautiful port town of Kerdruc, Brittany on it. She decides there and then that she is going to find a way to get to this beautiful place, and leave her past behind her.
I was honoured to have read an advanced copy of Nina George's last book, 'The Little Paris Bookshop' in 2015, and loved every page of it. So when I became aware that Nina had written The Little Breton Bistro, I was eager to read it.
Nina writes with pure passion. She goes against the grain with her stories, and fills them with characters that don't normally make the cut in novels, the older generation.
There is an air of sophistication about Nina's work, you don't just read her words, but you feel them too.
The Little Brenton Bistro, is a complex story, one told by a sixty-year-old woman who has had enough with this life. She wants some happiness, and if that means finding it in death, then so be it.
Being ground down by the man who is supposed to love her really has taken its toll on Marianne. She no longer cares what people say about her. She no longer cares what her husband thinks about her. Unfortunately, it feels like she no longer cares about herself as well. So when a spur of the moment idea seeps into her head, she has nothing to lose.
This book could be seen as a sad book, with a depressing undertone at times, but it is also uplifting. It is an inspiration to anyone that has ever felt lost in this world to discover, even if only in fiction, what life could be like. Don't be fooled by the chick-lit-esq cover, as this is far from one.
Nina George will grab hold of your emotions and toss them around during 'The Little Breton Bistro'. The story is awe-inspiring, captivating and completely masterful from beginning to end, and is a must read for 2017. I can see this book winning some awards this year.
Book Reviewed by Stacey
Purchase Links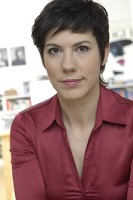 Born 1973 in Bielefeld, Germany, Nina George is a prize-winning and bestselling author ("Das Lavendelzimmer" – "The Little Paris Bookshop") and freelance journalist since 1992, who has published 26 books (novels, mysteries and non-fiction) as well as over hundred short stories and more than 600 columns. George has worked as a cop reporter, columnist and managing editor for a wide range of publications, including Hamburger Abendblatt, Die Welt, Der Hamburger, "politik und kultur" as well as TV Movie and Federwelt. Georges writes also under three pen-names, for ex "Jean Bagnol", a double-andronym for provence-based mystery novels.
George is Member to PEN, Das Syndikat (association of German-language crime writers), the Association of German Authors (VS), the Hamburg Authors' Association (HAV), BücherFrauen (Women in Publishing), the IACW/AIEP (International Association of Crime Writers), the GEDOK (Association of female artists in Germany), PRO QUOTE and Lean In.
Nina George sits on the board of the Three Seas Writers' and Translaters' Council (TSWTC), whose members come from 16 different countries. In May 2015 she was elected to the board of German PEN, and is now official adviser for the topic author's rights. George is also on the administrative board of Collecting Society VG Wort.
Nina George teaches writing and coaches young people, adults and professional authors, and also moderates (bilingual) readings (German-English), and works as a speaker on author's rights and transfer of value in the digital world.
Author Links
www.nina-george.com
@nina_george
Facebook
Instagram
Goodreads