The Gift of Happiness by Holly Martin – Book Review
The Gift of Happiness by Holly Martin – Book Review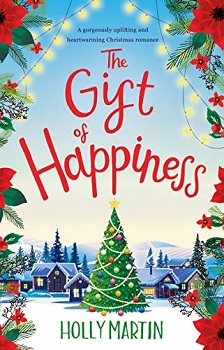 The Gift of Happiness
Author – Holly Martin
Publisher – Sunshine, Seaside & Sparkles
Pages – 260
Released – 25th October 2019
Format – ebook, paperback
Review by – Stacey
Rating – 5 Stars
I received a free copy of this book.
This post contains affiliate links.
The beautiful new story from the bestselling author of Christmas at Lilac Cottage. The magic of Christmas has arrived in the little village of Happiness, where snow falls and love is in the air.
This December Ruby Marlowe is relocating her little Christmas shop and everything she owns to the pretty seaside village of Happiness. With her best friend Willow already living there, and a heartbreaking past she'd rather forget, Ruby jumped at the offer of a cosy cottage and a fresh start on the Cornish coast. But she wasn't the only one…
The last person Ruby expects to find in Happiness is her summer fling, the very gorgeous Jacob Harrington. He's the only man who has come close to unlocking her heart, and therefore the one man she knew she could never see again. But now he's here in the same village, and the chemistry between them is more electric than ever.
Falling in love again is something Ruby has vowed never to do. But Jacob is determined to change her mind.
As the village sparkles with Christmas lights and the snow begins to fall, can Jacob convince Ruby that love is worth the risk? And will Ruby accept the gift of happiness that Jacob is offering her before it's too late?

We first met the village of Happiness in 'The Little Village of Happiness' released in July this year.
It's now December in the village and Christmas lover Ruby Marlowe has moved into the village to take up the offer of free rent and a shop for the year as long as she brings something to the village. Unfortunately, the shop she was supposed to open has sustained some water damaged so she is going to have to share a shop with the bloke she had a three night stand with, Jacob Harrington.
Ruby thought is off men as she doesn't want to get her heart broken as she did twelve years ago, but there is something about Jacob that she can't help feeling a pull towards.
Jacob, the brother of Andrew one of the main characters from book one, doesn't want to settle down either or have a girlfriend, but Ruby is different, he understands how hurt she was in the past and he doesn't want her to ever feel that pain again.
Can the two work side by side and keep their feelings to themselves or will they both take a chance on one another?
The Gift of Happiness is a delightful and enjoyable book that took me back to a village I would love to live in. The writing is perfect and Holly has such a way with words that she makes you feel like you are in the village looking at the slightly unusual Christmas lights!
The older generation folk of the town bring most of the laughs with their no-filter conversations, they would love nothing more than to see Jacob and Ruby as a couple and the don't mind telling them.
Both Ruby and Jacob are very realistic characters, they each have their own past stories which makes them view love and romance in their particular ways and it is a shame that because of past hurts they don't ever see themselves in love or growing a family, even when the perfect person is standing right beside them.
I have to say that this is one of the most charismatic and engaging books that I have ever read. I simply adored it and rushed through it. I didn't want it to end. It is a book you can settle down with and know that you are in for a real treat.
It works well as a standalone as well as the sequel to the first book, so if you are looking for a Christmas read to put you in the festive spirit, this one will do just that.
Book Reviewer – Stacey
---
Purchase online from:
---
About the Author

Holly lives in a little white cottage by the sea. She studied media at university which led to a very glitzy career as a hotel receptionist followed by a even more glamorous two years working in a bank. The moment that one of her colleagues received the much coveted carriage clock for fifteen years' service was the moment when she knew she had to escape. She quit her job and returned to university to train to be a teacher. Three years later, she emerged wide eyed and terrified that she now had responsibility for the development of thirty young minds.
She taught for four years and then escaped the classroom to teach history workshops, dressing up as a Viking one day and an Egyptian High Priestess the next. But the long journeys around the UK and many hours sat on the M25 gave her a lot of time to plan out her stories and she now writes full time, doing what she loves.
Holly has been writing for 8 years. She was shortlisted for the New Talent Award at the Festival of Romance. Her short story won the Sunlounger competition and was published in the Sunlounger anthology. She won the Carina Valentine's competition at the Festival of Romance 2013 with her novel The Guestbook. She was shortlisted for Best Romantic Read, Best eBook and Innovation in Romantic Fiction at the Festival of Romance 2014. She is the bestselling author of 19 books.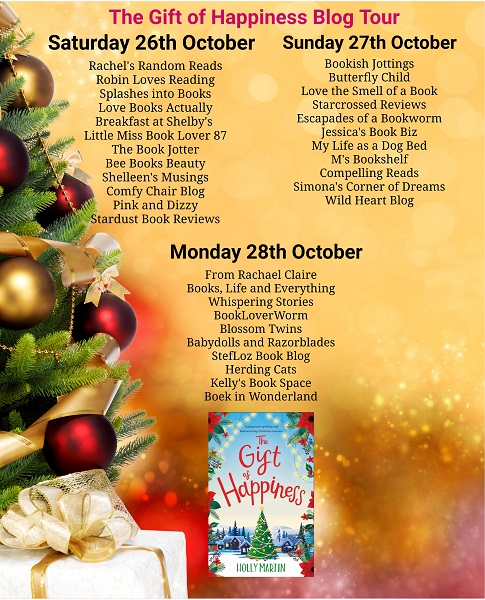 ---
What did you think of The Gift of Happiness? Share your thoughts in the comment section below!
---
The above links are affiliate links. I receive a very small percentage from each item you purchase via these link, which is at no extra cost to you. If you are thinking about purchasing the book, please think about using one of the links. All money received goes back into the blog and helps to keep it running. Thank you.