Bad People by Craig Wallwork – Book Review
Bad People by Craig Wallwork – Book Review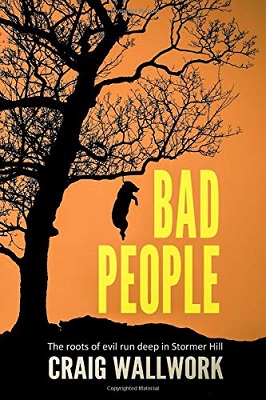 Bad People
Tom Nolan Book One
Author – Craig Wallwork
Publisher – Underbelly Books
Pages – 265
Released – 10th January 2020
ISBN-13 – 978-1657186675
Format – ebook, paperback
Review by – Clive
Rating – 4.5 Stars
I received a free copy of this book.
This post contains affiliate links.


THREE MISSING CHILDREN. Over the past three years, the quiet Yorkshire village of Stormer Hill has lost three of its children. No bodies were ever discovered. No evidence found. No witnesses.
THE WRITER. Struggling to find inspiration for his new novel, celebrated crime author, and ex-police officer, Alex Palmer, believes the story of the missing children could end his writer's block, but is he prepared for the story that's about to develop?
THE DETECTIVE. Tom Nolan, a seasoned detective and loner involved in finding each missing child. Nolan is tasked with chaperoning Palmer and walking through each case. But as both men revisit the past, and dig deeper, neither are prepared for the chilling discovery to why the children were taken.
THE BRETHREN. A secret cult. Two men, and a series of brutal and unimaginable murders spanning over seven years with one intention; to show the world that death can be justified if it's for a greater good.

Craig Wallwork was born in Greater Manchester and now lives in West Yorkshire. In Bad People he uses the area as the perfect backdrop to this gritty crime thriller, combining the toughness of the city, the communities of the small towns and the remoteness of the moors.
The Author's Notes at the back of the volume explain that the finished book is Wallwork's third incarnation of the story in his struggle to produce a publishable novel. His persistence has paid off with a gripping book full of action and suspense. The storyline is packed with content and angles that will keep you glued until the end.
The tale is told in the third person from the perspective of various characters including Alex, Nolan, Gram, Zee and Coonan. All are very strong and easily identifiable characters. As a "whodunit" it works very well. I picked up some of the clues but I would prefer that to arriving a conclusion which is not foreshadowed. Even if you do work it out there is still a great deal of action to enjoy as the story climaxes.
Although there is violence and gore in Bad People I did not find it disturbing. If this is a concern my suggestion would be to read the Prologue through the "Look Inside" feature on Amazon. If you are comfortable with reading that, you should be comfortable with the rest of the book.
My other concern was that my copy needed a really good proof read. The publisher sent an apology for giving me a pre-proof copy and sent another but I could not spot the difference! My concerns were the American spellings and a number of blatantly incorrect words – threw for through, refuge for refuse, breaks for brakes. There were also several nonsensical sentences which were probably the result of poorly applied corrections. Two such examples are "Any he many regrets" and "… a fleeting visitor baring gifts sand smiles". In the main these were errors that should have been picked up by a UK English spelling and grammar check.
Provided they are relaxed about spelling and grammar most lovers of contemporary British crime stories will thoroughly enjoy Bad People. For its action, tension and complex plot it still deserves four and a half stars. The book is subtitled Tom Nolan Book 1 and the final chapter clearly leaves the future open for a sequel which I look forward to reading.
Book Reviewer – Clive
---
Purchase online from:
---
About the Author

Craig Wallwork was born in Salford, Manchester, England. He is the three times Pushcart Prize nominated writer of over 40 short stories, and the author of the books To Die Upon a Kiss, The Sound of Loneliness, Bad People, Quintessence of Dust and Gory Hole. He lives in West Yorkshire, England.





---
What did you think of Bad People? Share your thoughts in the comment section below!
---
The above links are affiliate links. I receive a very small percentage from each item you purchase via these link, which is at no extra cost to you. If you are thinking about purchasing the book, please think about using one of the links. All money received goes back into the blog and helps to keep it running. Thank you.
Like us on Facebook – Tweet us on Twitter – Pin us on Pinterest