Secrets and Lies by Lynda Renham – Book Review
Secrets and Lies by Lynda Renham – Book Review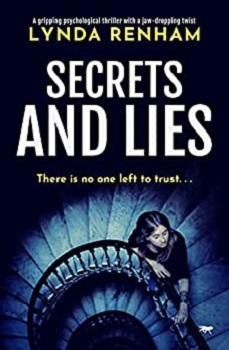 Secrets and Lies
Author – Lynda Renham
Publisher – Bloodhound Books
Pages – 336
Released – 28th March 2023
Format – ebook, audio
Reviewer – Stacey
I received a free copy of this book
Post contains affiliate links
*PLEASE NOTE THIS IS A REPUBLISHED VERSION OF HUNTERS MOON
A couple looks forward to a promising future in a new house—but a past darkness threatens to destroy it, in a new thriller by the bestselling author of Remember Me.
It's Flora and Adam's dream home: Hunters Moon, in the peaceful English village of Penlyn. Adam's political career has just taken a turn for the better, and the only thing left to complete the couple's happiness is a baby. Adam believes Hunters Moon will give them the new start they need—and help Flora overcome a recent miscarriage.
But Flora senses something odd about the house and soon realises it isn't all it seems. Did the previous owner commit suicide or was she murdered? What are the villagers hiding? Is the lake at the bottom of the garden as peaceful as it seems?
Soon Flora finds herself entrapped in a web of deceit with no one to turn to—and her dream home starts to become her nightmare . . .
Review
Hunters Moon, located in the little village of Penlyn, is the new home of Home Secretary, Adam Macintosh and his wife Flora. From the moment Flora steps foot inside the house she gets a sense that something isn't right, but puts her feelings down to being exhausted and emotional after her two recent miscarriages and the longing for a child.
It's not long before Flora starts to smell roses and have vivid dreams of a woman falling down her stairs, whilst a man is standing at the top watching the woman fall. She believes that it is possibly the previous owner, rock star Gerard Meyer and his deceased wife Kerri, although she was told that his wife died from heart failure.
Flora decides to do a bit of digging on the couple and her home, but discovers far more than she thought she would about them. She also finds out about some of the villagers too, and the past goings on. There are a lot of secrets in Penlyn, but can Flora uncover them all, and at what cost?
This is the second psychological thriller by predominantly chick lit author, Lynda Renham. The first was good, this one was great.
The plot is told in the third person and from the point of view of Flora, with snippets to the past from various characters.
Flora is a woman who seems like she is treading water. She is the wife of the Home Secretary, which means that her husband, Adam, is often away in London, sometimes for days at a time. When home, he is often in his office. When he speaks to Flora he talks down to her and is short tempered too. He also makes her feel like she is going insane. She doesn't know anyone in Penyln, although everyone seems to know a lot about her, especially private information, mainly concerning her miscarriages, and her state of mind.
The villagers reminded me a lot of the film 'Hot Fuzz', where you get a sense that all is not as it seems. Secrets are plenty and they have a need to win the yearly 'Best Kept Village' award at all costs and won't let anything or anyone standing in their way. They all seemed a little unhinged.
Lynda gives you enough information to believe that Flora is dealing with a ghost, one that seems to be trying to tell her something, but then as further information was revealed I did start to wonder whether Flora was indeed having a mental breakdown and her visions, smells, etc were the result of her state of mind.
I had a love/hate relationship with the characters, but there was one character I had a proper despise for, her husband. I couldn't stand that man. He was so self loving and had an ego as big as a house, thinking that he was better than everyone else. He had no qualms about using peoples weaknesses against themselves, including his own wife.
Secrets and Lies had me gripped right through to the last pages where Lynda then hits you with one last surprising twist, one that I did not see coming and left me open mouthed.
Reviewed by Stacey

---
About the Author

Lynda Renham is famous for her romantic comedy novels. She has been called A Comedian in a Book, Chicklit Royalty and A Comic Genius.
Her writing style has been likened to Sophie Kinsella but is refreshingly down to earth with characters that become your friends. Lynda is a prolific writer, blogger and when not writing can usually be found wasting her time on Facebook.
Lynda lives in Oxfordshire with her second husband and cat.
Want to find out more about Lynda, have a read of our interview – 'The Writing Life of: Lynda Renham'




---