The Writing Life of: Lynda Renham
Lynda Renham
This week on 'The Writing Life of:' I am thrilled to be interviewing author Lynda Renham. Lynda will be sharing with us detail of her writing life, telling us all about her latest book 'Perfect Weddings', which was released on 12th April 2016, and answering a few fun questions too. This post contains affiliate links.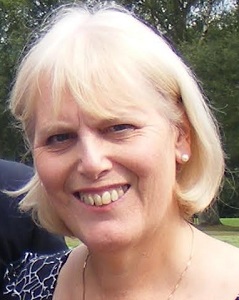 Lynda Renham is famous for her romantic comedy novels. She has been called A Comedian in a Book, Chicklit Royalty and A Comic Genius.
Her writing style has been likened to Sophie Kinsella but is refreshingly down to earth with characters that become your friends. Lynda is a prolific writer, blogger and when not writing can usually be found wasting her time on Facebook.
Lynda lives in Oxfordshire with her second husband and cat.
---
1) Do you remember the moment you decided that you would like to become a writer?
No, no really. It just feels like I have always been writing. I remember wanting to be a famous writer when I was young. I use to write stories under the desk at school when the lessons were boring. So I've been writing a long time.
2) How did you go about following your dream?
Like most writers. I wrote what I thought were brilliant novels and sent them to publishers who rejected them. I still have my rejection letters. I sent them to agents and publishers galore but all rejected. I just never gave up.
3) Is there a particular author that inspires you?
Iris Murdoch I have always admired and she was a great inspiration. I've not read a great deal of J K Rowling's work but I have the greatest respect for her.
4) What is your average writing day like? Do you have any strange writing habits?
I'm not a great planner. I have a terrible haphazard way of keeping notes that would drive other authors crazy. I have them all over the place, in notebooks on random pages, in my phone, on my laptop in odd named folders, on scraps of envelopes.
I also don't write at a desk. I sit on the couch in my writing room and write with my lap top on my lap, which flows nicely into your next question.
5) Do you write Longhand, Type writer, Computer?
Laptop. I have gone through several.
6) From all your books, do you have a favourite character?
Yes, Harriet, from 'The Dog's Bollocks' she reminds me of me when I was younger and writing that novel took me back to my own roots. I love that book.
7) Do you plot your books completely before hand or do you let your imagination flow whilst in the writing process?
I always have a basic idea. A skeleton idea that is on a scrap of paper somewhere and from that I begin and then the ideas just flow and more notes may get made along the way but mostly the book just gets written.
Concerning your latest book: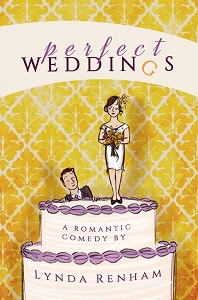 Perfect Weddings
Author – Lynda Renham
Publisher – Raucous Publishing
Pages – 339
Release Date – 12th April 2016
Format – ebook, paperback, audio

Every bride wants a perfect wedding and that includes Georgina Winters. Amy Perfect is the crème de la crème of wedding planners so who best to plan Georgina s wedding… except the man Georgina plans to marry is the same man who jilted Amy three years ago.
Will her plan to give Georgina the most imperfect wedding backfire on her? Is this the chance for Amy to win back the love of her life, or will insufferable Ben Garret put a spanner in the works?
Arab princes, spoilt brides and wedding catastrophes make Perfect Weddings a page-turning romantic comedy that will keep you guessing until the very last page.

8) How long did it take to get from the ideas stage, to the date of publication?
The idea came in Sept. But I stopped to write 'A Christmas Romance' for Christmas and continued after Christmas and finished it middle of March and it was released on the 12th April, but I did start it before 'A Christmas Romance.' I wrote about 20,000 words before taking a break.
9) Did you suffer from writer's block at any stage? How did you overcome it?
Oh yes, terribly. It was one reason I took a break and wrote 'A Christmas Romance' I overcome it by pushing through it mostly. Oh, and eating too much.
I raid the fridge a lot at times like those. I'm dieting at the moment and my only real treat is Rich Tea biscuits. I get through them like no tomorrow on a writer's block day.
10) How did you come up with the name(s)for your lead character(s)?
Sometimes I'll hear a name I like. Other times I look up names but mostly they are names I have heard and liked.
11) If your book was made in to a film, who would you love to play the lead character(s)?
Sally Hawkins without a doubt.
12) Did you get anyone in particular to read your work before sending it to the publisher i.e family member, friend etc?
My husband Andrew always reads them before anyone else does.
Author Links