The Wait for Shadows by Karl Holton – Book Review
The Wait for Shadows by Karl Holton – Book Review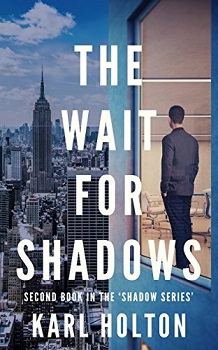 The Wait for Shadows
Shadow Series Book Two
Author – Karl Holton
Publisher – Thuja Publishing
Pages – 372
Released – 5th January 2018
ISBN-13 – 978-0995785519
Format – ebook, paperback
Review by – Clive
Rating – 4 Stars
I received a free copy of this book.
This post contains affiliate links.
An assassin wants revenge but doesn't know who to kill. A drug dealer wants revenge without the muscle to kill. A 'wild beast' can help them both. Can anybody stop it?
The last six days in 'The Weight of Shadows' were just the beginning. Danny Benedict and the whole team must get ready — it's day seven. The second book in the 'Shadows Series'. Every morning you can watch the sunbeams glitter, certain you no longer need to wait for shadows.

The Wait for Shadows is the second of Karl Holton's Shadows trilogy, following The Weight of Shadows and preceding The Water's Shadow which was published earlier this year.
In my review of The Weight of Shadows I commented that Holton does not deal in half measures and he has kept that tradition in this work. Once again we have a non-stop plot with plenty of action that spreads from local drug gang rivalry to international money laundering and fine art theft; all investigated by a multi-agency team. The desire to keep the pages turning is fuelled by the cliff hanger endings to each short chapter; all seventy two of them!
As with the first book, Holton has used a large cast of characters, some of whom were featured in The Weight of Shadows. To help us fathom out who's who he has provided a list of the main characters at the beginning. It helps a little, although it is easier to refer back in a hard copy than an eBook. One problem with so many characters and so much action is that we do not get much of an insight into any of them beyond their direct involvement in the plots.
Holton skilfully kept me confused as to how the various plots and characters would come together. All was eventually made clear but only after some well written and tense final chapters.
In the opening notes of each book Karl Holton points out that there is a secret book code that tells us something we don't yet know. I think this is what could be called foreshadowing. Whatever it is called I'm not sure that I spotted the code, let alone worked it out. Hopefully you will understand his meaning.
If you like a crime thriller that will keep your attention throughout then try The Wait for Shadows. I have awarded four stars.
Book Reviewer – Clive
---
Purchase online from:
---
About the Author

Karl Holton's first book, 'The Weight of Shadows' came out in July 2017. It is the first in a new crime thriller mystery known as the 'Shadow Series. The second in the series 'The Wait for Shadows' came out in December 2017. Both are available on Amazon.
Karl previously worked in financial markets for over thirty years, before deciding that he had to write. He couldn't leave this dream any longer.
He lives in the United Kingdom with his wife and two children.





---
What did you think of The Wait for Shadows? Share your thoughts in the comment section below!
---
The above links are affiliate links. I receive a very small percentage from each item you purchase via these link, which is at no extra cost to you. If you are thinking about purchasing the book, please think about using one of the links. All money received goes back into the blog and helps to keep it running. Thank you.