They Lie Here by N S Ford – Book Review
They Lie Here by N S Ford – Book Review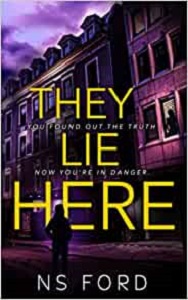 They Lie Here
Author – N S Ford
Release Date – 22nd October 2022
Pages – 288
ISBN 13 – 979-8358978836
Format – ebook, paperback
Star Rating – 5
I received a free copy of this book.
This post contains affiliate links.

Synopsis
TWO MYSTERIES. ONE CITY. MANY LIES.
Kat Green has made a career out of tracking down reclusive former celebrities. When she moves to the quaint English city of Waelminster, she's on the trail of enigmatic pop star Roskoe Darke, of the band Scorpio Hearts. He hasn't been heard of since 1985, but she's confident she'll find him. However, as the clues become more bizarre and sinister, Kat has to confront the darkness of her own past. Who can she trust when everyone is hiding the truth?
I'll cut to the chase. In my opinion They Lie Here is a well-crafted and extremely entertaining read. I've given it five stars and I'll tell you why.
N S Ford has created an ideal protagonist in the mysterious character of Kat Green. We follow her story in the first person and in the present tense. These techniques give us a close up view from her head except that she is cautious not to disclose too much of her past.
Alongside Kat's storyline there are chapters following two other plots. One is various scenes from the past featuring Scorpio Hearts and the other follows a teenage pop duo who shot to brief fame in 1999. These stories are told in the third person and usually in the past tense. Whilst the Scorpio Hearts were clearly linked to Kat's project, the link to the other thread was not so clear.
N S Ford creates appropriate atmosphere with chapter titles that sound more like album tracks, matching the music themes. To me Waelminster was York with the city walls, the river and the heritage quarter. The author's Amazon and Goodreads pages describe They Lie Here as a cross-genre psychological thriller which it is, exploring many themes including the pressures of instant success, particularly for teenage stars. There is also a touch of sci-fi to complete the mix.
As the book continues various clues appear, the tension grows and the action increases. At one point I was thinking "where did that come from?" but it all came together in a great climax.
I see that N S Ford has previously published another novel, We Watch You and a short story The Glowing Beauty. If they match the quality of The Lie Here then NS Ford clearly has a future as a novelist.
---
Purchase Online:
N S Ford

N S Ford is a book fanatic, blogger and cat lover who lives in the UK with her family. She has a First Class degree in English. When not reading or blogging, she juggles her writing time with parenting, working in heritage and playing the piano. She is the author of two cross-genre psychological thrillers, 'We Watch You' and 'They Lie Here'.
Author Links:
---
The above links are affiliate links. I receive a very small percentage from each item you purchase via these links, which is at no extra cost to you. If you are thinking about purchasing the book, please think about using one of the links. All money received goes back into the blog and helps to keep it running. Thank you.