Stop at Nothing by Lucy Martin – Book Review
Stop at Nothing by Lucy Martin – Book Review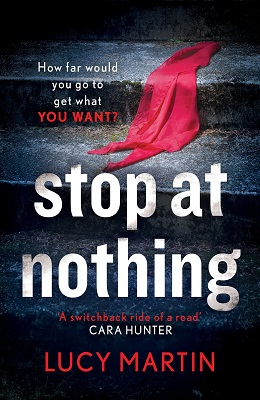 Stop at Nothing
Author – Lucy Martin
Publisher – Welbeck
Pages – 352
Released – 11th November 2021
ISBN-13 – 978-1787396371
Format – ebook, paperback
Rating – 4.5 Stars
I received a free copy of this book.
This post contains affiliate links.


Synopsis
How far would you go to get what you want?
Amie Slade's sexual assault feels too close to home for DS Ronnie Delmar. Forced to face the demons of her past, she vows to protect the family at all costs.
But everyone's got a secret in this leafy suburb and when a child goes missing and a woman's body is found, it becomes clear that this perfect family hide a sinister reality.
Someone here will stop at nothing to win, but can Ronnie beat them to it?
Stop at Nothing concerns the Slade family, consisting of Amie, our lead character and voice who is a vulnerable teenage girl who appears to be rather neglected and ignored. Her older brother Andrew, a stereotypical teenager. Maeve, the mother who is obsessively tidy and has her worries and concerns of her own, and Stuart, the father who is not that much of a father, though he is ridiculously good-looking and full of charm. At first, I thought these characters, this dysfunctional family, were too much of a cliché to hold my interest for long, but my mind was changed as I read on.
Amie attends an all-girls school, where she feels she does not fit in and is bullied by some of the girls. There is also a handyman who gets too handy with her and causes her life to dramatically change. I spent a lot of my reading time feeling very sorry for poor Amie as an awful lot of change happened in her young life all at once.
We also meet Detective Sergeant Ronnie (Veronica) Delmar who is very personable and plays a major role. She is a divorced woman with teenage children, and a sister. She also has a story to be told hidden in her past. Her police sidekick Baz is a bit of an unknown entity to start with, but as the story develops we come to know him better. We also meet social and psychiatric workers and one school teacher, in particular, has an important role.
The prose flows and keeps the story moving at just the right pace. The nearer to the end I got, the faster I found I was reading as I wanted to find out what happened next. This is a compulsive and twisted thriller that kept me guessing till the very end. It is a completely enjoyable read, though shocking at times, which reflected modern life and pressures within families.
Purchase Online From:
---
What did you think of 'Stop at Nothing'? Share your thoughts in the comment section below!
---
The above links are affiliate links. I receive a very small percentage from each item you purchase via these links, which is at no extra cost to you. If you are thinking about purchasing the book, please think about using one of the links. All money received goes back into the blog and helps to keep it running. Thank you.
Like us on Facebook – Tweet us on Twitter – Pin us on Pinterest – Join us on Instagram