Vintage 1954 by Antoine Laurain – Book Review
Vintage 1954 by Antoine Laurain – Book Review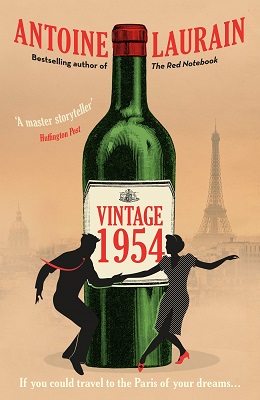 Vintage 1954
Author – Antoine Laurain
Publisher – Gallic Books
Pages – 218
Released – 20th June 2019
ISBN-13 – 978-1910477670
Format – ebook, paperback, audio
Review by – Stacey
Rating – 3.5 Stars
I received a free copy of this book.
This post contains affiliate links.


When Hubert Larnaudie invites some fellow residents of his Parisian apartment building to drink an exceptional bottle of 1954 Beaujolais, he has no idea of its special properties.
The following morning, Hubert finds himself waking up in 1950s Paris, as do antique restorer Magalie, mixologist Julien, and Airbnb tenant Bob from Milwaukee, who's on his first trip to Europe. After their initial shock, the city of Edith Piaf and An American in Paris begins to work its charm on them. The four delight in getting to know the French capital during this iconic period, whilst also playing with the possibilities that time travel allows.
But, ultimately, they need to work out how to get back to 2017, and time is of the essence…

I firstly need to begin this review by saying that I have had this book for quite a while. I did try to read it last year but about 3/4 chapters in I gave up as the story just didn't grab me. I decided that I would try the book again as the synopsis had me very intrigued, this time I stayed with it until the end.
The plot, in a nutshell, is about a group of four people, three Parisians (Hubert, Julien, and Magalie), and an Airbnb guest from Milwaukee, USA, called Bob who is staying in their apartment block. An incident with a locked door sees Hubert decides to share a vintage bottle of 1954 Beaujolais with the three mentioned above. After having a good evening drinking and socialising one by one they awake the next day to find themselves transported to the year of the wine. The setting is Paris.
The time-travel aspect was certainly different and enjoyable whilst the mention of flying saucers and the link to the wine was a little too far-fetched for me but I understand that there had to be some reason why drinking the Beaujolais would take the four of them back to 1954.
I am completely split on what I think about the book. I loved the setting of Paris in the 50s and the references to things and people from that era, however, I found that I began drifting off or thinking of other things whilst reading, the book just couldn't keep my attention. It was also supposed to be a humorous tale but I only found small sections funny.
For those of you that are old enough to remember the 50s, this book could be a good trip down memory lane, or those that adore Paris could see all the sites as they have never before. For me, I just couldn't get into the story and it was an effort to read it.
This is completely me and not the book. Shame as I was looking forward to it. Part of me does wonder whether if it is the fact that the book is translated, such as have parts of the plot been changed or rearranged to make it work in English? I guess I'll never know.
The book is certainly different and if you enjoy historical fiction, that is a little unusual, then you just might like this story.
Book Reviewer – Stacey
---
Purchase online from:
---
About the Author

Antoine Laurain is a novelist, screenwriter, journalist, director and collector of antique keys. He is the author of the best-selling novels The President's Hat and The Red Notebook.
A truly born and bread Parisian, after studying film, he began his career directing short films and writing screenplays. His passion for art led him to take a job assisting an antiques dealer in Paris. The experience provided the inspiration for his first novel, The Portrait,winner of the Prix Drouot.
Published on the eve of the French presidential elections of 2012, Antoine's, fairytale-like novel The President's Hat was acclaimed by critics, readers and booksellers, who awarded it the Prix Landerneau Découvertes. In the UK, it was a Waterstones Book Club and ABA Indies Introduce pick. Unsurprisingly, the novel quickly climbed into a Kindle Top 5 bestseller. This novel, full of Parisian charm, was the winner of the Prix Relay des Voyageurs, a prize which celebrates the enjoyment of reading. Since then, The President's Hat has been adapted for television in France.
Antoine's novels have been translated into 14 languages, including Arabic and Korean. Sales of his books across all formats in English have surpassed 155,000 copies. And The Red Notebook (2015) has become one of Gallic Books' bestsellers both in the UK and the USA. Also published: French Rhapsody (2016) The Portrait (2017) and Smoking Kills (2018).


---
What did you think of Vintage 1954? Share your thoughts in the comment section below!
---
The above links are affiliate links. I receive a very small percentage from each item you purchase via these link, which is at no extra cost to you. If you are thinking about purchasing the book, please think about using one of the links. All money received goes back into the blog and helps to keep it running. Thank you.
Like us on Facebook – Tweet us on Twitter – Pin us on Pinterest