The Missing by Michael Rosen – Book Review
The Missing by Michael Rosen – Book Review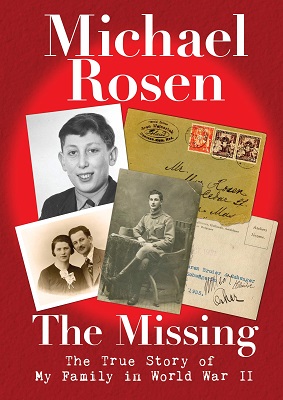 The Missing
The True Story of My Family in World War II
Author – Michael Rosen
Publisher – Walker Books
Pages – 128
Released – 12th December 2019
ISBN-13 – 978-1406386752
Format – ebook, hardcover
Review by – Stacey
Rating – 5 Stars
I received a free copy of this book.
This post contains affiliate links.


When Michael was growing up, stories often hung in the air about his great-uncles: one was a clock-mender and the other a dentist. They were there before the war, his dad would say, and weren't after.
Over many years, Michael tried to find out exactly what happened: he interviewed family members, scoured the internet, pored over books and traveled to America and France. The story he uncovered was one of terrible persecution – and it has inspired his poetry for years since.
Here, poems old and new are balanced against an immensely readable narrative; both an extraordinary account and a powerful tool for talking to children about the Holocaust.

Children's author and poet Michael Rosen has written a book about his missing family who disappeared during WWII. The book feels very much like he has written it for himself, like he wanted to write down what he had been told by his family, what he wanted to discover, how he was going to find out the information and then, of course, the search and reveal of that info.
The book is written for children and so uses very simplistic writing and wording as well as explaining what certain words meant and the use of photographs to explain things too.
As well as the chapters that are sections in between where he has written his thoughts in poet form. Not being much of a poem lover I confess to skipping past quite a few of them. Some were only a couple of verses whilst others were over a few pages. At the back of the book, there are pages on further reading split into sections. I will certainly be looking some of them up.
For children learning about WWII and wanting to understand the horrific things that the Nazis did, including what happened at Auschwitz, this book explains everything in easy to understand language without traumatising them.
For me, as an adult, this book taught me things about the war that I didn't know including how thousands of Jewish men, women, and children were taken from the Nice area of France, captured by the Nazis. They were in Nice as they had gone there to be saved by a man called Angelo Donati who had sorted out documents for them and had four ships ready to carry them to safety. So close.
I just adored this book. The writing was engaging, the subject kept me interested and I was eager to find out whether Michael would find out what happened to his missing family. This would be a wonderful book for having at school to use during lessons on WWII. I also think that it shouldn't just be children reading it as it speaks to adults too. It is poignant, touching and beautiful, in a sad way.
Book Reviewer – Stacey
---
Purchase online from:
---
About the Author
Michael Rosen is one of the most popular contemporary poets and authors of books for children. His titles include We're Going on a Bear Hunt which was the winner of the Smarties Book Prize, Michael Rosen's Sad Book and Totally Wonderful Miss Plumberry.
The presenter of "Word of Mouth" on BBC Radio 4, he received the Eleanor Farjeon Award for services to children's literature in 1997.
---
What did you think of The Missing? Share your thoughts in the comment section below!
---
The above links are affiliate links. I receive a very small percentage from each item you purchase via these link, which is at no extra cost to you. If you are thinking about purchasing the book, please think about using one of the links. All money received goes back into the blog and helps to keep it running. Thank you.
Like us on Facebook – Tweet us on Twitter – Pin us on Pinterest