The Extraordinary Book That Eats Itself by Susan Hayes – Book Review
The Extraordinary Book That Eats Itself by Susan Hayes – Book Review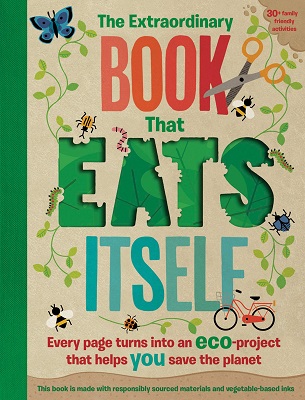 The Extraordinary Book That Eats Itself
Author – Susan Hayes & Penny Arlon
Illustrator – Pintachan
Publisher – Red Shed
Pages – 64
Released – 4th February 2021
ISBN-13 – 978-0755502080
Format – paperback
Rating – 5 Stars
I received a free copy of this book.
This post contains affiliate links.


Synopsis
Read it, do it, save it! Every page turns into an eco project that helps you save the planet and recycles the book.
A lot of small everyday actions can make a big difference. With over 30 eco projects, this is the perfect gift for inspiring the next generation of Greta Thunbergs and David Attenboroughs.
Every morsel is reusable or recyclable, even the cover! Plastic-free gift bags, bug hotel 'rooms', apple seed planters and eco-friendly glue are just some of the brilliant, family friendly activities in the book.
This inspiring, inventive and creative approach to environmental issues will keep children busy for AGES!
I don't think I have ever seen a book like The Extraordinary Book That Eats Itself. Yes, I have read books that are about recycling, reusing, reducing, etc, but this book goes a step further in that it contains amazing activities for children to complete by using the book itself as part of the projects.
Within this sixty-four-page book that has been carefully and beautifully illustrated, are thirty family-friendly activities to keep children occupied, interested and happy.
The projects include building a wormery and using the same page that teaches you how to make it as the wormery cover. A section on Teaching children about light pollution and the opposite side are messages to cut out and to pass on to their friends about how light pollution is dangerous for animals. At the back is information on how to make eco-friendly glue that can be used on the badges that can be cut out on the previous page. These are just a few of the many, many activities.
The projects are completely varied, some are quick, simple, and only the page in the book is needed, others need a few other items to complete them. Then there are those that are about getting out and about (when we can), such as using the bike or hiking instead of taking the car, or going on an eco-friendly picnic. There are even a few recipes inside too.
I loved this book. It is fun, it is educational, and I can see children enjoying that they get to destroy the book they have just read to complete their projects.
Purchase Online From:
---
What did you think of 'The Extraordinary Book That Eats Itself'? Share your thoughts in the comment section below!
---
The above links are affiliate links. I receive a very small percentage from each item you purchase via these link, which is at no extra cost to you. If you are thinking about purchasing the book, please think about using one of the links. All money received goes back into the blog and helps to keep it running. Thank you.
Like us on Facebook – Tweet us on Twitter – Pin us on Pinterest