Along Came a Fox by Georgiana Deutsch – Book Review
Along Came a Fox by Georgiana Deutsch – Book Review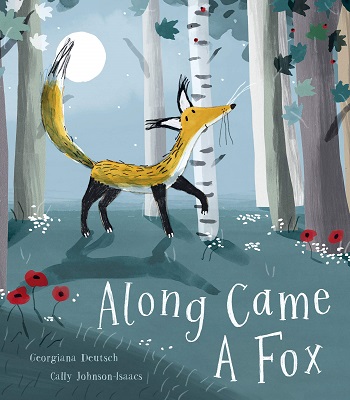 Along Came a Fox
Author – Georgiana Deutsch
Illustrator – Cally Johnson-Isaacs
Publisher – Little Tiger Press
Pages – 32
Released – 4th February 2021
ISBN-13 – 978-1788816908
Format – paperback, hardcover
Rating – 4 Stars
I received a free copy of this book.
This post contains affiliate links.


Synopsis
It's just the right sort of night for adventure. Silvery moon? Yep! Sparkly stars? So many! Excited fox? Meet Bramble! But – EEK! – who's that hiding by the lake?
A playful tale of finding friends in unexpected places.
Bramble the Fox was on the hunt for Fireflies one night. He woke Hazel Hedgehog in his attempt to find them who became intrigued about the Fireflies too. Twig the Owl told Bramble to head to the lake, that is where the Fireflies would be.
When he got there though there was another fox in the water looking back at him which scared him and made him angry but the more he shouted at the fox the more the other fox shouted back. He returned to wise Owl Twig to ask her advice. Twig said she wondered what had upset the other fox and perhaps they should go back to the lake to find out.
Along Came a Fox is a book that has been superbly illustrated with beautiful full-page pictures that pull you into the story and bring the story to life. The book's main theme is about being kind, friendly, and treating others how you would like to be treated.
I was expecting the story to be about reflections and Twig the Owl teaching Bramble and Hazel about how the moon was lighting up the lake and making themselves reflective in the water, but this was never mentioned. Whilst older children will understand this by the illustrations, younger children may need it pointing out to them.
The book is lovely with its soft, dark colours and night-time theme it would make the perfect bedtime story.
Purchase Online From:
---
What did you think of 'Along Came a Fox'? Share your thoughts in the comment section below!
---
The above links are affiliate links. I receive a very small percentage from each item you purchase via these link, which is at no extra cost to you. If you are thinking about purchasing the book, please think about using one of the links. All money received goes back into the blog and helps to keep it running. Thank you.
Like us on Facebook – Tweet us on Twitter – Pin us on Pinterest