How Santa Changed by Karl Steam – Book Review
How Santa Changed by Karl Steam – Book Review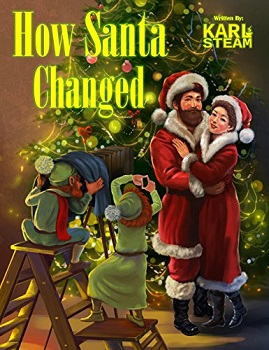 How Santa Changed
Author – Karl Steam
Pages – 38
Release Date – 8th November 2016
ISBN-13 – 978-1635780024
Format – ebook, paperback
Reviewer – Stacey
I received a free copy of this book
Post Contains Affiliate Links

Think you know Santa? Think again. Discover what Santa was like when he was young and the events that helped him become the jolly man we like so much.
How Santa Changed is a story that explains many of the familiar things we associate with Santa Claus, such as:
Why does Santa use reindeer to pull his sleigh? Why does he have elves help him make toys?
Why does Santa have a white beard?
Why does he walk with jolly and cheer?
Mrs. Claus is not left out either. If readers pay close attention, they will discover some of the strategies that helped her to become the most famous baker in history.
This book contains timeless lessons for both children and adults alike, but not in an annoying way. It's a story that loved ones will want to read year after year.

How Santa Changed, is the story of how author Karl Steam believes Santa evolved over the years. Starting out many years ago, a young, slim, happy Santa, made all the toys himself. He then delivered them to all the good boys and girls homes on Christmas Eve, with the help of his strongest moose.
Then the world grew, and more children were born. Cities were built and Santa struggled to make all the toys himself. After lots of fretting, that turned his beard white and made him sad, he enlisted the help of some magical elves. But now his sleigh was too heavy for one moose to pull, so he got two. But moose fight, so he needed a different animal to pull his sleigh – can you guess which he chooses?
He now had enough help to make and deliver all the presents, so Santa became jolly again, though he also liked one too many of Mrs. Claus cookies!
Karl tells a wonderful tale, that I'm sure young children will relate to, and adore. I love that it has been written in a rhyme, I also love the illustrations which are exquisite, and really do capture the heart of Christmas.
The story is touching and I'm sure that it would make a lovely bedtime story, though I feel with the classroom resources at the back, which includes discussion questions and activities, Karl has this more earmarked for a tale to be told in schools.
Book Reviewed by Stacey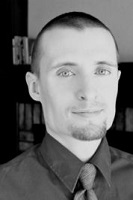 Once upon a time, I wanted to be a park ranger and wildlife photographer. Camping, fishing, and canoeing were my favorite pastimes. I liked to learn about nature and often checked out national geographic documentaries from the city library. The things I learned inspired me to write a few nonfiction animal books as a kid. I would staple paper together, write interesting facts about a particular species, and illustrate my books with cut out magazine pictures. To this day, nature influences most of the things I write.
I wrote off and on for many years, but never seriously. I told myself in high school that I would have more time to write once I was in college. In college I told myself I would write more once I graduated. After graduating I married and had children. One day a story came to mind, but I told myself that I would have time to write it once my kids were grown. That's when I realized I was on the path to becoming an old man, who shakes his head and wonders why he never wrote a book.
Author Links