Rupert's Snowman by Phillipa Warden – Book Review
Rupert's Snowman by Phillipa Warden – Book Review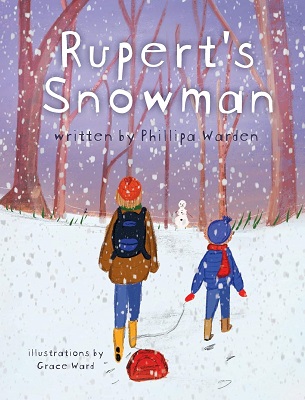 Rupert's Snowman
Author – Phillipa Warden
Publisher – Purple Butterfly Press
Pages – 46
Released – 15th September 2020
ISBN-13 – 978-1948604697
Format – paperback, hardcover
Review by – Stacey
Rating – 4 Stars
I received a free copy of this book.
This post contains affiliate links.


It's Christmas Eve and a perfect snow day, or so it seems. Sledging, building snowmen, making snow angels and having snowball fights. But wait! What is this? Why is Rupert racing back up the hill? Join him and his mummy as they are forced to embark on a Snowy Adventure Rescue…

Christmas Eve had arrived and so had the snow. Rupert's mum dug out their sledge so that they could have fun. After donning their warm clothes, hats, and scarves they set off for the top of the hill so they could sledge back down.
Once at the top Rupert wanted to build a snowman, so the pair set about rolling three balls, finding twigs for arms, stones for eyes and mouth, and of course he needed a hat.
When lunchtime came around Rupert was sad because he didn't want his snowman to be all alone so he came up with a very clever idea.
Rupert's Snowman is an adorable Christmassy book filled with pages of gorgeous snowy scenery and children having fun.
The story is very realistic and you can see Rupert having fun just like most children in the snow. You can also see the compassion that he has when he feels sorry and worried for his snowman being left outside all alone.
I noticed that the verbs and nouns in the book are all written in capital letters. I do wonder whether having either the verbs or the nouns capitalised would have been better so that a child can learn to differentiate them or had the nouns one colour and the verbs a different colour would have been better. However, I can't see a child being bothered by this one bit.
Overall, it is a very sweet book that will bring joy to a young child and have them eager for the snow to fall so they can have as much fun too.
Book Reviewer – Stacey
---
Purchase online from:
---
What did you think of Rupert's Snowman? Share your thoughts in the comment section below!
---
The above links are affiliate links. I receive a very small percentage from each item you purchase via these link, which is at no extra cost to you. If you are thinking about purchasing the book, please think about using one of the links. All money received goes back into the blog and helps to keep it running. Thank you.
Like us on Facebook – Tweet us on Twitter – Pin us on Pinterest