Roo The Little Red Tuk Tuk by Nadishka Aloysius – Book Review
Roo The Little Red Tuk Tuk by Nadishka Aloysius – Book Review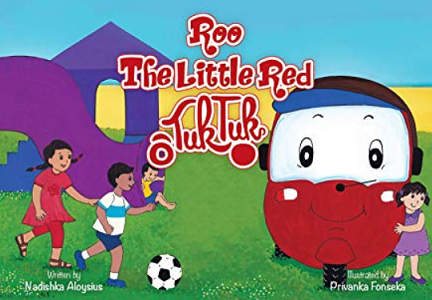 Roo The Little Red Tuk Tuk
Author – Nadishka Aloysius
Pages – 24
Released – 28th April 2019
ISBN-13 – 978-9555184748
Format – ebook, paperback
Reviewer – Stacey
Rating – 4 Stars
I received a free copy of this book.
This post contains affiliate links.
There are hundreds of books about cars, trains, trucks and various construction vehicles in the market. But have you ever read one about a Tuk Tuk?
Discover a new friend in this book, in a setting both exotic and exciting. Roo is a little Tuk Tuk. Join Roo as he recalls the many ups and downs of his life on the roads of Colombo (the commercial capital of Sri Lanka). From road races, to Polo tournaments, to animal rescues, this little vehicle has lived life to its fullest.
Experience the joys and perils of Tuk Tuks on the streets, and learn many life lessons along the way with this courageous Tuk Tuk who is always ready to lend a helping hand and spread some cheer. You are never too little to make a difference…Also known as tri-shaws or three wheelers, Tuk Tuks are a common sight in the eastern world. All foreign visitors are encouraged to ride a Tuk Tuk at least once when they visit Sri Lanka : but the recommendation also goes with a warning to HOLD ON TIGHT!
All the incidents in this book are adapted from news stories and Facebook posts of real life Tuk Tuk drivers who are unafraid to be more than just a means of transportation. So, (I'd say 'buckle your seatbelt' but there are no seatbelts in Tuk Tuks…!), enjoy some of the sights and sounds of beautiful Colombo and its wonderful people as you read this book that also teaches you – you are never too little to make a difference!
Roo is a Tuk Tuk that lives in Colombo, Sri Lanka. Over the years Roo has taken part in lots of adventures, from racing other Tuk Tuk's to helping a dog with a poorly leg. He has lots of tales to share with you.
Roo The Little Red Tuk Tuk is a short children's picture book at just 24 pages long. It contains lots of tales about what Roo got up to when he used to travel around the city and how much fun he used to have. He no longer travels about but he is still a happy Tuk Tuk as he now gets to spend his time hearing children laugh and enjoy themselves.
As the author states, there are lots of books about other vehicles but this is the first one I have seen about a Tuk Tuk and definitely the first I have read.
The story is very sweet and is a great introduction for children to learn about Tuk Tuks. I would have liked the author to have explained to children at the beginning or the back of the book about what a Tuk Tuk is and what they are mainly used for and how they work, though I am sure that older children will be able to look one up online to see for themselves.
The illustrations are bright and bold and fill the pages. Roo looks like a lovely Tuk Tuk, who has had a varied life and enjoyed every minute of it.
Book Reviewer – Stacey
---
Purchase online from:
---
About the Author

Nadishka Aloysius is a teacher, actor, author and mother of two boys. Being a teacher of Drama and English Language with over 18 years' experience in the field, and a mother of two sons who love story time, she finds inspiration in the little everyday details of life. All her books are intimately related to life-experiences, and although they are all based in her home country of Sri Lanka they are generic enough for an international audience.
Nadishka loves reading crime fiction and fantasy and this is reflected in her writing.
She conducts creative writing workshops and school visits to share her love of literature. As an actor, she prefers to play the antagonist since it allows her to explore the darker sides of human nature.



---
What do you think of the book? Share your thoughts in the comment section below!
---
The above links are affiliate links. I receive a very small percentage from each item you purchase via these link, which is at no extra cost to you. If you are thinking about purchasing the book, please think about using one of the links. All money received goes back into the blog and helps to keep it running. Thank you.
Posts straight to email via Bloglovin – Like us on Facebook – Tweet us Twitter – Pin us on Pinterest
If you enjoyed our post please feel free to share it using the social media links below.