The Next Chapter with Kevin Ansbro
Kevin Ansbro
Today we welcome back author Kevin Ansbro to Whispering Stories Blog to catch up on what he has been doing since our interview with him back in July 2017 on 'The Writing Life of: Kevin Ansbro'. This post contains affiliate links.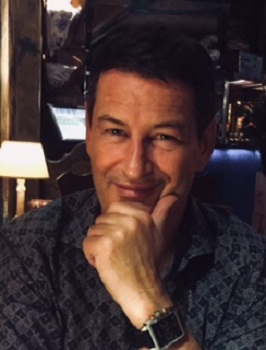 I was born of Irish parents, and have lived in Malaysia and Germany:
My formal education was at Hamond's Grammar School in Swaffham, and at the Norfolk College of Arts and Technology (Stephen Fry being a much more famous former student).
I write in the magical realism genre, meshing otherworldliness into the harshness of our real world. I also like to handcuff humour and tragedy to the same radiator.
Perhaps incongruously for an author, I have a background in karate and kickboxing. I also travel extensively – particularly in the Far East.
I'm married (to Julie), and currently live in Norwich, England.
Stuff about me: I'm a foodie and an avid reader; I value good manners, love and friendship above all else; I am constantly putting my foot in it, am reputed to have a wicked sense of humour and love to laugh, but sometimes do that 'snorty pig' noise when I do!
I'm also easy-going and extremely friendly. Come on over and have a chat – I'll put the kettle on!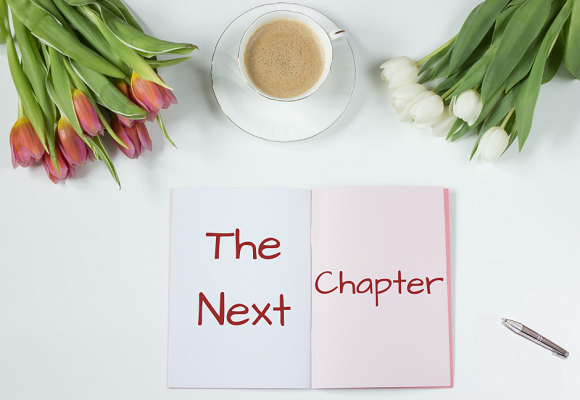 Welcome back to Whispering Stories Blog, lovely to be featuring you again. We last met you back in July 2017 when we spoke to you about your writing life and your latest book at the time 'Kinnara'. Since that date I believe you have written and published another book.
1) How has life changed since we last met you?
Life is very much the same, Stacey. I write each day and give myself weekends off. Apart from holidays and socialising, I'm chained to my keyboard for twelve hours a day!
2) Has your writing style changed since we last interviewed you?
My style hasn't changed much. I endeavour to make the real seem unreal, and the unreal seem real. My writing is dark, but playful, and bejewelled with poetic prose and descriptive imagery.
3) Have you allowed yourself to be influenced by your readers' opinions of your characters?
I'm fortunate not to have borne the brunt of anything approaching scathing criticism, so I've continued to create three-dimensional characters who are either deliberately lovable or detestable.
4) Have you found writing gets easier or harder the more books you write?
The syntax becomes easier, but a writer should strive to improve on previous successes. With that in mind, I added more layers and subplots, and emptied a quiver of literary techniques that work on a subliminal level. All of that requires a great deal of careful planning.
5) Is there a difference in the way you feel about your books the more you publish? As in do you still feel the same level of excitement?
Happily, I become more excited with each book, knowing that I have an audience out there who get a kick out of my stories. I'm already excited about my latest book, which is in the editing stage.
6) If you could live within the pages of any of the books created by you, which would you choose?
If I could live within the pages of any place within my books it would be in the utopian afterlife I've created in The Fish that Climbed a Tree (only after I leave this mortal coil though. I'm not ready to pop my clogs just yet!)
Concerning your latest book: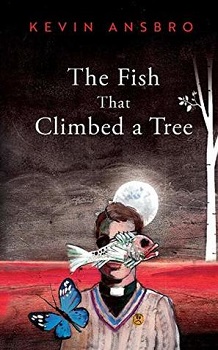 The Fish that Climbed a Tree
Author – Kevin Ansbro
Publisher – 2QT Limited
Pages – 364
Release Date – 7th December 2018
ISBN 13 – 978-1912014323
Format – ebook, paperback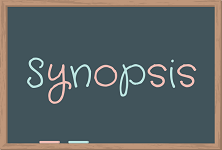 Following his savage murder in a London vicarage, Reverend Ulysses Drummond embarks on an epic odyssey in the afterlife, wrestling with his conscience and misguidedly spurning the obvious advantages of a free ticket to Paradise.
His ten-year-old son, Henry, is left to muddle through life, encountering school bullies, big-hearted benefactors and cold-blooded killers on his passage to adulthood.
Will Henry find love, success and happiness in his life – or will he suffer the cruel and agonising death that was foretold?

7) How long did it take you to write this book?
The Fish that Climbed a Tree is the only book I've had published since Kinnara. It took me three years to plan and write.
8) Can you tell us a little about your new book (not in the synopsis)?
Henry Drummond is a socially awkward pudding of a boy. The kid is alone in the world and represents the underdog we are all rooting for. He is wise beyond his years and dreams of one day becoming a famous writer. First, though, he intends to bring his parents' savage killers to justice.
Editor Karen Holmes described the book thus: 'Funny, frightening and touching, this audacious combination of fantasy and real-world evil is a novel like no other. Make sure you don't miss it.'
9) Can you remember seeing your book for the first time in the bookstore, supermarket, online?
Yes! I got a thrill seeing my first book, Kinnara, in a bookshop in my city. I wanted to shepherd everyone towards it!
10) What next for you in your writing career?
Next is my anthology of flash fiction and short stories. The book is complete and in the editing stage. It's titled The Concubine and the Postman, & other wild tales.
Reviewers' Questions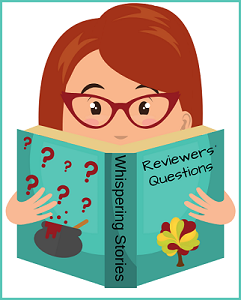 1) Question from Kerstin – Do you have a writing routine?
Hi Kerstin. I do have a writing routine. I'm very disciplined and type from 4 a.m. until my eyes are on coils and my brain has turned to mush. For a year prior to typing the story, I scribble ideas, storylines, plots, subplots and character profiles onto a succession of notepads. These are eventually pinned to a cork storyboard in a chronological or thematic order. As I type, the pinned notes disappear from the board. I am someone who leaps out of bed in the middle of the night to jot an idea down!
2) Question from Cara – Who was your favourite author growing up?
Ooh, great question, Cara! As a child, I loved books like The Lion, the Witch and the Wardrobe; then pre-teen, my literary hero was Gerald Durrell, moving on to Charles Dickens, and many others. Genre-wise, and style-wise, I swim in the same ocean as Gabriel García Márquez, Salman Rushdie and Louis de Bernières.
3) Question from Ellwyn – What has been your most rewarding experience since publishing your work?
Hi Ellwyn. I hope this doesn't come across as saccharine, but the most rewarding part about being an author is the enthusiastic feedback I receive from people who are reading, or have just read, my books. It never gets old! It's why writers write (or why they should write). I hope to elicit strong emotions in the hearts of my readers: tears, laughter, anger and anything in between.
---
Author links




---
Share your thoughts on our interview with Kevin Ansbro in the comment section below!
---
The above links are affiliate links. I receive a very small percentage from each item you purchase via these link, which is at no extra cost to you. If you are thinking about purchasing the book, please think about using one of the links. All money received goes back into the blog and helps to keep it running. Thank you.