Threads in Time by Hannah De Giorgis – Book Review
Threads in Time by Hannah De Giorgis – Book Review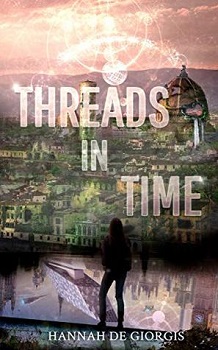 Threads in Time
Author – Hannah De Giorgis
Pages – 327
Released – 26th January 2019
ISBN-13 – 978-1527235960
Format – ebook, paperback
Reviewer – Tina
Rating – 3 Stars
I received a free copy of this book.
This post contains affiliate links.
Twenty-two-year-old Lyndall Huxley wakes to find herself thousands of years into the future. Something went wrong with the programme for which she volunteered – a programme that employs Einstein's laws of relativity to send travellers forward in time. The ruins overrun by green woodland in which she wakes are a far cry from the urbanised world she left behind in the 2200's.
Lyndall embarks upon a journey that will leave her questioning her very identity. She must choose between the new life that beckons and the old life from which, even thousands of years later, she cannot escape. She will discover that the mission was never about sending people into the future. Much more is at stake.

Set in 2233, in a world with a massive wealth gap, the novel tells the story of Lyndall, a young woman who suffers the traumatic loss of her parents and sister. In her grief, she signs on to a privately-funded one-way trip through time. She wakes up to find she has traveled over 5000 years in the future. She must navigate a world overrun by vegetation to find other travelers and discover the mystery of why they have traveled so far afield.
The setting of 2233 is intriguing but lacks depth. There are interesting tidbits dropped, such as the prevalence of bikes and how books evolved, but Lyndall's life is not that much different from today. As such, the story could have taken place in 2025 with the same result. There were several anachronisms which also took away from the futuristic aspects. I don't think in two hundred years we will still use "men" instead of "humanity" or gender people based on their hair cuts.
Another element that distracted from the overall plot was the emphasis on Lyndall's love life. There is a pointless love triangle which is used to create false tension. In truth, I disliked this part of plot intensely, as it felt contrived to me. There was no external plot element forcing Lyndall to choose between two people, though she is often urged to do so by one or the other. Given the larger stakes at play, focusing so much attention on this took away from the rest of the story.
It also didn't help that both men were "perfect" in different ways. Lyndall herself was immature and rash, as well as being quite young, so I felt distanced from her. The other characters served their purposes but lacked personality.
That being said, Threads in Time is compelling and moves at a quick pace. The author writes with an easy-to-follow, gentle prose that guides the reader with minimal confusion. The first half jumps back and forth between the present and the future, which serves to keep you interested. The description of the year 5000 future and the people in it are detailed and well-explained. The twist at the end would not surprise hardcore science fiction readers, but the journey to get there is enjoyable overall.
Book Reviewer – Tina
---
Purchase online from:
---
About the Author

Hannah was born and raised in the Cotswolds, England. After teaching English in Florence, Italy, for a time she moved to London, where she recently completed a Master's in Modernist Literature at University College London. Prior to that, she studied English Literature at Birkbeck, University of London, where she graduated with first-class honours and won the John Hay Loban prize for student who shows the most promise in literature.
Threads in Time is her debut novel. She now lives in London with her husband. To sample more of her writing – her blog, poetry, and short stories.




---
What do you think of the book? Share your thoughts in the comment section below!
---
The above links are affiliate links. I receive a very small percentage from each item you purchase via these link, which is at no extra cost to you. If you are thinking about purchasing the book, please think about using one of the links. All money received goes back into the blog and helps to keep it running. Thank you.