The Blackthorn Series by Lindsay J. Pryor
The Blackthorn Series by Lindsay J. Pryor
Today we have a special book promotion for you. Publishers Bookouture have published their 500th book, 'Blood Broken' by Lindsay J. Pryor, the 8th book in her Blackthorn Series. What makes this even more special is that the first book that Bookouture ever published was in fact the 1st book in the series, 'Blood Shadows'. This post contains affiliate links.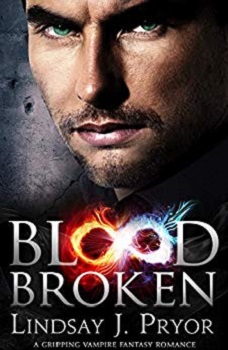 Blood Broken


Blackthorn Series Book Eight
Author – Lindsay J. Pryor
Publisher – Bookouture
Pages – 589
Release Date – 20th May 2019
ISBN 13 – 978-1786813992
Format – ebook, paperback

'Our love could save us both. Or it could destroy everything.'
Leila McKay is both blessed and cursed. Her potent serryn powers are growing stronger, but they come with a heavy price. And to prove her love for vampire leader Caleb, she needs to bring his murdered brother Jake back to life. The only way is to cast a spell no one has dared to attempt before, that could tear apart the fabric of time itself…
But Caleb fears that treachery runs deep in Leila's veins. Although the heat between them grows hotter by the second, Caleb's past has left him with a hard heart and a mistrustful nature, and it was at her sister's hands that Jake was killed… but with his brother's life in the balance, giving in to his primal instincts is more tempting than ever.
Time is running out for Caleb. In a matter of hours, Jake will be past the point of saving: and around them, all-out war rages in Blackthorn. With genetically modified lycans and vicious convicts roaming the streets, Sirius Throme at the Global Council has secret plans that threaten to devastate the whole district… and Leila is the only one powerful enough to save them all. But can Caleb really trust her?
With countless lives at stake, will Leila and Caleb's fierce attraction be strong enough to see them through the ultimate test? Or in unleashing the darkness within, will they destroy everything they hold dear?
The explosive, action-packed conclusion to the utterly addictive Blackthorn series will leave fans of paranormal romance breathless. Blackthorn is an eight-book series with an overarching plot, so if you're at the start of your Blackthorn journey, read BLOOD SHADOWS to discover how it all began…
Purchase online from:
---

Combining sizzling passion and sinfully seductive vampire heroes, Blackthorn is the perfect series for anyone who loves urban fantasy, paranormal romance, or dystopian fiction. Packed with suspense and intrigue, thrillingly sensual romance, and characters you can't help but root for, Blackthorn has seen thousands of fans fall head over heels for this stunningly intricate world.
Each book takes readers on a dark, twisted journey deeper into the world of Blackthorn. Following four couples through intense passion, betrayals, and threats to the very fabric of their world, the series begins when Caitlin Parish, a Vampire Control Unit agent, is on a mission to hunt down Kane Malloy – a master vampire. Her mission is complicated when an unexpected but deep passion builds between them…
Intense, addictive and action-packed, Blackthorn will leave you breathless. Discover the series today!
Special Offer – Books 1-3 are currently available as a box set from Amazon for just £3.99/$6.99, so don't miss out on this great deal.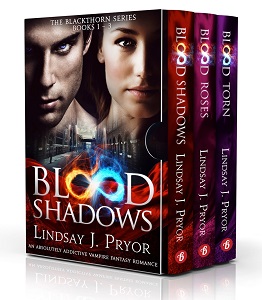 ---
About the Author

Lindsay J. Pryor is a speculative fiction author published by Hachette U.K. Her dark, gritty and complex dystopian BLACKTHORN series has achieved numerous Gothic and PNR Amazon number ones both in the UK and the US. Her spin-off LOWTOWN standalone novels are underway as well as her upcoming romantic Gothic horror.
Quickly deciding that fantasy was more interesting than reality, Lindsay has been creating stories since she was nine years old. She holds a BSc (Hons) degree in Psychology and Communication and is a qualified Psychology lecturer and English teacher. She taught for eighteen years before becoming a full-time author.
Lindsay was born and grew up in Wales and now lives in South West England with her husband and a plethora of wild woodland creatures.




---
Share your thoughts on The Blackthorn Series in the comment section below!
---
The above links are affiliate links. I receive a very small percentage from each item you purchase via these link, which is at no extra cost to you. If you are thinking about purchasing the book, please think about using one of the links. All money received goes back into the blog and helps to keep it running. Thank you.