The Boing Boing Bushes by Bryony Supper – Book Review
The Boing Boing Bushes by Bryony Supper – Book Review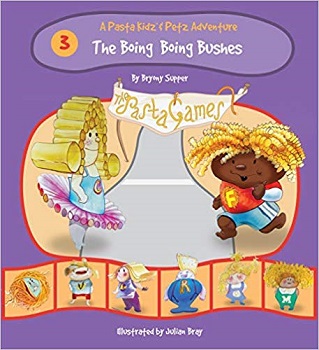 The Boing Boing Bushes
The Pasta Kidz Book Three
Author – Bryony Supper
Publisher – Troubador Publishing
Pages – 24
Released – 28th February 2019
ISBN-13 – 978-1789018585
Format – paperback
Reviewer – Stacey
Rating – 4 Stars
I received a free copy of this book.
This post contains affiliate links.
The Pasta Kidz and Pasta Petz Adventures introduce a brand new magical Pastaworld with different Pasta languages! Pasta musical instruments! Plus the Pasta Petz in their very own Pastamobile! Always at hand to help the Kidz and much, much more!
All the Pasta kidz have their own unique personalities, and the differences in both appearance and language do not matter. Friendship is the most important thing as they encounter fantastical Beings and Beasties. The Pasta Kidz and Petz invite you into their world.

The Pasta Kidz and Pasta Petz are back in book three 'The Boing Boing Bushes', after all the fun they have had in book one – 'The Inventing Tubes' and book two – 'The Sorry Sticks'.
In this episode the Pasta Kidz are getting ready for the Pasta Games, but only two of the kidz have turned up – Camilla Cannelloni and Felix Fusilli. With there only being the two of them they decide to make some games up. First is throwing the Pastaball but when that goes missing they decide to play catching the Boing Boing Bushes, but they don't like to be caught, they are wild bushes and like to stay that way.
But where are all the other Pasta Kidz, could they be hiding from something or someone?
The Pasta Kidz is a series of children's books by Bryony Supper that features different children who are all named after different types of pasta and there are Pasta Petz too. They have their own language – There is a vocabulary at the back to help you translate some of what they say and they like having fun.
To get to know the Pasta Kidz I would suggest starting at the beginning of the series, otherwise, you lose not understand their personalities.
The Boing Boing Bushes has been beautifully illustrated with bright, colourful, vivid, pictures which bring the story and the Kidz to life. The whole book was enjoyable and I'm loving this growing collection of stories. I now can't wait to see what the Pasta Kidz and Petz get up to in book four.
Reviewed by Stacey
---
Purchase online from:
---
About the Author

Bryony Supper trained as a professional actress at the Drama Studio, Ealing. From there she went into Rep, always playing comedy roles and has a wide range of experience from the 'Rocky Horror Show' to stand-up comedy and children's television – she was a regular on ITV's Gimmee Five with Ant and Dec, writing all her own material.
Now, using her natural talent for comedy, she has created the Pasta Kidz™ and Pasta Petz™ adventure stories for children aged between 4 and 7.





---
The above links are affiliate links. I receive a very small percentage from each item you purchase via these link, which is at no extra cost to you. If you are thinking about purchasing the book, please think about using one of the links. All money received goes back into the blog and helps to keep it running. Thank you.