The Taking of Annie Thorne by C.J. Tudor – Book Review
The Taking of Annie Thorne by C.J. Tudor – Book Review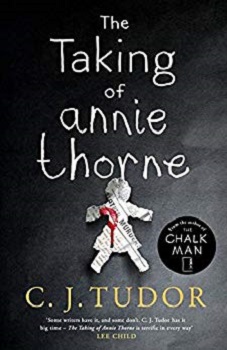 The Taking of Annie Thorne
Author – C.J. Tudor
Publisher – Michael Joseph
Pages – 352
Released – 21st February 2019
ISBN-13 – 978-0718187453
Format – ebook, paperback, hardcover, audio
Reviewer – Stacey
Rating – 5 Stars
I received a free copy of this book.
This post contains affiliate links.
Then . . .
One night, Annie went missing. Disappeared from her own bed. There were searches, appeals. Everyone thought the worst. And then, miraculously, after forty-eight hours, she came back. But she couldn't, or wouldn't, say what had happened to her.
Something happened to my sister. I can't explain what. I just know that when she came back, she wasn't the same. She wasn't my Annie.
I didn't want to admit, even to myself, that sometimes I was scared to death of my own little sister.
Now. . .
The email arrived in my inbox two months ago. I almost deleted it straight away, but then I clicked OPEN:
I know what happened to your sister. It's happening again . .

In 1992 Joe Thorne's life changed dramatically and not for the better. This was the year he got in with the local unruly gang of kids, the year they discovered a secret and the year his sister went missing for 48 hours and returned a different child.
Now Joe has been sent a mysterious email that tells him 'I know what happened to your sister. It's happening again.' Heading back to the small town he vowed never to return to, Arnhill in Nottingham, Joe manages to get himself a teaching job at his old high school and soon discovers that not much has changed in Arnhill.
His life has been out of control since he was a teenager partly because he needed to know what happened to Annie and if heading back to the place that haunts him is the only way to find out, then so be it.
I've had C.J. Tudors book 'The Chalk Man' since it's release day but unfortunately, I've never found the time to read it, after reading this book though I am making reading it a priority. You see C.J. Tudor has a way with words, they just flow and make you lose track of time. The plot so rich and inviting and scary at the same time. Not because it has any big horror/scary scenes, but because you are left on edge waiting for something to happen, something you can feel coming and if it's crawling on your skin yet you can't put the book down.
Joe Thorne has not had an easy life since that fateful year of 1992. This was the year his life started to spiral out of control. When his sister went missing the whole village went looking for her, but when she returned something wasn't right and from this day Joe became frightened of his little eight-year-old sister Annie. She would talk to herself, do strange things and often just stare at him. The house also started to smell like something had died in it. Annie wasn't Annie anymore.
As an adult, Joe tried to push the past behind him but he knew he couldn't get away forever and with mounting gambling debts hanging over his head and the strange email, Joe knew that it was time to lay the past to rest.
The characters, the scenery, and the whole plot are so well thought out and executed. The book is told from Joe Thorne's POV and whilst most of the chapters are set in the present there are a few that are set in 1992 and show you exactly what happened that year. The references to 1992 brought back so many memories as Joe is the same age as me and so the talk about wham bars and Walkmans had me feeling nostalgic.
I read the book in two sittings as I could not put it down, it's one of those books you think just one more chapter and one turns into ten. It is so good. It gave me a buzz waiting to find out what happened to Annie and who was the mysterious message sender. I had to fight myself not to turn to the back and cheat to find out as I knew I would ruin the build up.
If I haven't already emphasised enough to you, this is a must read and I can see this book winning awards, it is amazing.
Reviewed by Stacey
---
Purchase online from:
---
About the Author

C. J. Tudor was born in Salisbury and grew up in Nottingham, where she still lives with her partner and young daughter. Her love of writing, especially the dark and macabre, started young. When her peers were reading Judy Blume, she was devouring Stephen King and James Herbert.
Over the years she has had a variety of jobs, including trainee reporter, waitress, radio scriptwriter, shop assistant, voice over artist, television presenter, copywriter and now author. The Chalk Man is her first novel. The Taking of Annie Thorne is her latest release.
Have a read of our interview with C.J. Tudor – The Writing Life of: C.J. Tudor



---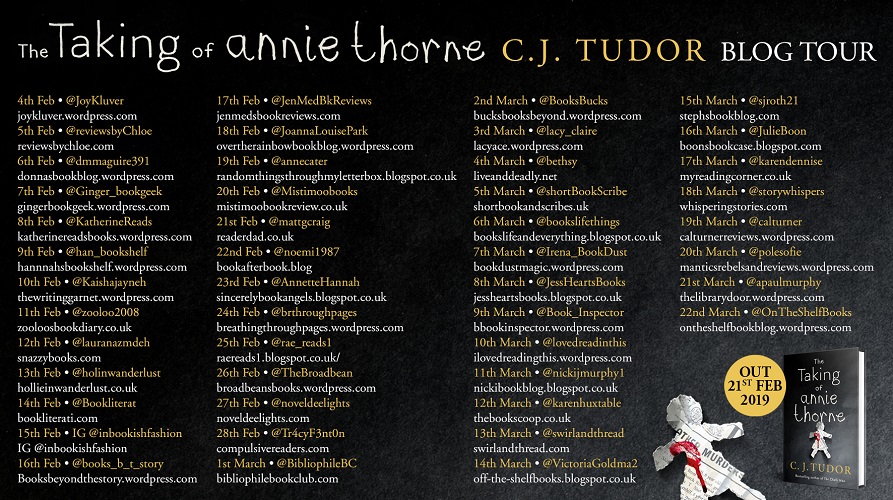 The above links are affiliate links. I receive a very small percentage from each item you purchase via these link, which is at no extra cost to you. If you are thinking about purchasing the book, please think about using one of the links. All money received goes back into the blog and helps to keep it running. Thank you.