The Dating Diet by Daralyse Lyons – Book Review
The Dating Diet by Daralyse Lyons – Book Review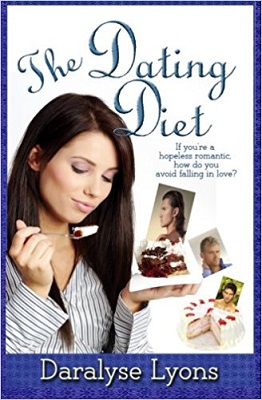 The Dating Diet
Author – Daralyse Lyons
Publisher – Createspace
Pages – 312
Released – 22nd May 2014
ISBN-13 – 978-1499549829
Format – ebook, paperback
Reviewer – Theophila
I received a free copy of this book
Post contains affiliate links.
What if you found yourself climbing out of a bedroom window, naked, in the middle of the afternoon, to avoid being caught in bed with your married lover? Would you have second thoughts about dating?
After Shayla Ross discovers that yet another potential "Mr. Right" is, in fact, incredibly wrong for her, she decides to go on a diet. No. She's not going to forgo her much-loved, sinfully-delicious girl scout cookies or her (admittedly too frequent) trips to McDonalds. Shayla is going on a dating diet.
An incredibly hapless and infinitely loveable heroine, elementary school teacher Shayla Ross decides to take her summer vacation from teaching as a period of self-discovery. Much to the chagrin of her meddling mother, Shayla sets out to find herself and, in the process, bumbles into a series of successive funny and heartwarming interpersonal interactions that will have readers falling in love with her.
Review
Meeting different guys, going on dates and kissing a lot of frogs before you finally meet the prince is a "silent rule" for being a lady. This "rule" becomes what governs Shayla Ross' life, except she kisses more frogs than she can handle and decides to take a break from dating.
Her need for a relationship has driven her into accepting the wrong guys and getting hurt at the end, this prompts her decision of going on a dating diet.
During the period of this diet, she embarks on a journey of self discovery, she grows to love herself, enjoys being single and finally meets her prince.
The Dating Diet is an interesting book with wonderful characters. Shayla Ross happens to be my favourite, I kept following her closely, anticipating the next klutziness she would display.
The book connects with reality in a way that you can easily relate to as a lady. The author's sense of humour is amazing as some part of this book left me in stitches. I really enjoyed reading this book, plus I also learnt from it. I can see a lot of ladies falling in love with this book.
Reviewed by Theophila
---
About the Author

Writing isn't so much what I do. It's who I am. Ever since I was five years old, I knew I wanted to tell stories for a living. I have a tendency to fall in love with characters and a somewhat (by which I mean extremely) fanatical need to put their lives down on paper.
I write Young Adult fiction because I am still seventeen at heart and because I remember what it felt like to pick up a book and see myself in its characters. Some of the books which influenced me as a teenager include Summer Sisters by Judy Blume, She's Come Undone by Wally Lamb, and all the Sweet Valley High books by Francine Pascal. I hope that my readers can see themselves in my characters and get lost in my fictional stories and the very real emotions that drive them.
A few fun facts about me… I am an adrenaline junkie who loves skydiving, rollercoasters, and parasailing. As a certified yoga instructor, I try to find peace in movement and I meditate (almost) every day. I live in the quaint Mount Airy section of Philadelphia. And at least once a week I do comedy improv (think Who's Line is it Anyway?) and laugh at the utter ridiculousness of make believe.






---