Where the Innocent Die by M J Lee – Book Review
Where the Innocent Die by M J Lee – Book Review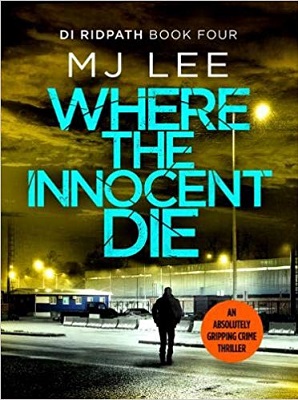 Where the Innocent Die
DI Ridpath Crime Thriller Book Four
Author – M J Lee
Publisher – Canelo
Pages – 352
Released – 23rd March 2020
ISBN-13 – 978-1788638029
Format – ebook, paperback
Review by – Stacey
Rating – 5 Stars
I received a free copy of this book.
This post contains affiliate links.


A mysterious death, and a foe he never could have imagined…
A woman dies under suspicious circumstances in an Immigrant Removal Centre. The statement provided by the officer on duty seems clear enough, that it was suicide, but upon a deeper investigation in the coroner's office by DI Ridpath, the evidence starts to unravel.
With no leads, and only five days to solve the case, Ridpath must work harder than he ever has before to uncover the truth.
Faced with official intransigence, concealment of evidence, and nobody who seems to care, he must work hard to crack the case, before time runs out…

Author M J Lee is back with the fourth instalment of his DI Ridpath Crime Thriller series, Where the Innocent Die. This time Detective Inspector Thomas Ridpath, who is still working for the coroner's office, is investigating the death of a woman within an immigration detention centre.
The young woman, Wendy Tang, was found dead in her unlocked room at 4am with her throat slit. The initial report is that she committed suicide but DI Ridpath isn't quite convinced. It is all a little too suspect for him that her door was the only one left unlocked throughout the night and the cameras within the vicinity of her room were out of order.
The inquest into her death is to be held within a few days and the senior coroner's officer refuses to postpone it, so Ridpath only has a matter of days to work this case. Can Ridpath work fast enough to solve what really happened to Wendy Tang before her body is released back to her family?
DI Ridpath Crime Thriller series happens to be one of my favourite detective thrillers so the minute I heard that book four was ready I was eager to read it. If you haven't read the series, firstly, why not!!, secondly if you love police procedural novels you really must. Whilst I believe each book can be read as a standalone, reading them in order will give you a greater understanding of who DI Ridpath is and his backstory.
As well as having an amazing, realistic cast the series is also set within my home town of Manchester, though this time there weren't many areas mentioned as the main bulk of the story is within the coroner's office, MIT, and the immigration centre. What I also love about the series is that whilst we do get to hear about DI Ridpath's family and personal life, such as his cancer remission it is kept to a minimum and the main focus of the book is on the case at hand.
I flew through this book and had read it within two days, I just didn't want to put it down. The case was gripping and as more people were murdered I was intrigued as to who the killer could be and why. To be honest, I actually didn't guess the killer and it came as a surprise, believe me, this doesn't happen often.
Overall, Where the Innocent Die is a bloody fantastic. I do hope that there will be more DI Ridpath books to come as I don't want his story to end just yet.
Book Reviewer – Stacey
---
Purchase online from:
---
About the Author

Martin (M J Lee) has spent most of his adult life writing in one form or another. As a University researcher in history, he wrote pages of notes on reams of obscure topics. As a social worker with Vietnamese refugees, he wrote memoranda. And, as the creative director of an advertising agency, he has written print and press ads, tv commercials, short films and innumerable backs of cornflake packets and hotel websites.
He has spent 25 years of his life working outside the North of England. In London, Hong Kong, Taipei, Singapore, Bangkok and Shanghai, winning awards from Cannes, One Show, D&AD, New York and London Festivals, and the United Nations.
When he's not writing, he splits his time between the UK and Asia, taking pleasure in playing with his daughter, researching his family history, practising downhill ironing, single-handedly solving the problem of the French wine lake and wishing he were George Clooney.





---
What did you think of Where the Innocent Die? Share your thoughts in the comment section below!
---
The above links are affiliate links. I receive a very small percentage from each item you purchase via these link, which is at no extra cost to you. If you are thinking about purchasing the book, please think about using one of the links. All money received goes back into the blog and helps to keep it running. Thank you.
Like us on Facebook – Tweet us on Twitter – Pin us on Pinterest