Perfect Kill by Helen Fields – Book Review
Perfect Kill by Helen Fields – Book Review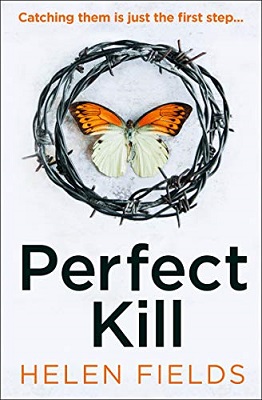 Perfect Kill
A DI Callanach Thriller Book Six
Author – Helen Fields
Publisher – Avon
Pages – 416
Released – 6th February 2020
ISBN-13 – 978-0008275242
Format – ebook, paperback, audio
Review by – Stacey
Rating – 4.5 Stars
I received a free copy of this book.
This post contains affiliate links.


He had never heard himself scream before. It was terrifying.
Alone, trapped in the darkness and with no way out, Bart Campbell knows that his chances of being found alive are slim.
Drugged and kidnapped, the realisation soon dawns that he's been locked inside a shipping container far from his Edinburgh home. But what Bart doesn't yet know is that he's now heading for France where his unspeakable fate is already sealed…
DCI Ava Turner and DI Luc Callanach are working on separate cases that soon collide as it becomes clear that the men and women being shipped to France are being traded for women trafficked into Scotland.
With so many lives at stake, they face an impossible task – but there's no option of failure when Bart and so many others will soon be dead…

Edinburgh student Bart Campbell awakes to find himself in a shipping container and tied down. He doesn't remember how he got there or where he is going but he realises that nothing good can come from his situation.
DI Luc Callanach is working with Interpol in Paris, France looking into an illegal organ transplant operation when he comes across an emptied body. The body belongs to Edinburgh resident Malcolm Reilly who was recently reported missing by his family. He asks DCI Ava Turner who works for Major Investigation Team (MIT) in Edinburgh to speak to the family and to let them know what has happened to him.
DCI Turner is also working on the case of a man shot dead in his home in a shady part of Edinburgh. The body has been left but someone has tried to clean the area around it, why?
Could the three cases be linked somehow?
Perfect Kill is the sixth book in the 'Perfect' series by Helen Fields but the first book in the series that I have read. To be honest I didn't even realise that it was the sixth in the series until I read it on Goodreads. I can confirm it can be read as a standalone as I never felt like I had missed out or didn't understand any sections.
The plot is quite sinister in places and as well as the illegal organ operation there is also a prostitution ring in Edinburgh going on right under the detective's noses and some of the scenes within in this subplot can get a little full-on, so be warned if women being attacked and killed for sport is a trigger for you.
The writing is superb and had me invested in the story from the very beginning. I was eager to know would Bart make it home ever again or would Elenuta, one of the prostitutes ever get away from the criminals keeping her and forcing her to entertain men daily.
This is one of those books that had me on the edge of my seat. It was horrific at times to read but that was mainly down to how realistic it was and how believable the situations were. I loved how eventually the cases worked their way together and also the moments of lightheartedness throughout which always came at a welcome moment.
The characters were plausible and likeable. I enjoyed both DI Callanach and DCI Turner's working styles, even if they were completely different from one another. I also appreciated the setting and scenery of both Edinburgh and Paris.
If you are a fan of police procedural novels that have a more gritty, gory side to them then this is the book to read. I am now off to check out the others in the series.
Book Reviewer – Stacey
---
Purchase online from:
---
About the Author

With a background as both a prosecutor and defence cousel, Helen Fields has a depth of knowledge about crime that lends a fierceness to her writing.
From Courts Martials to care proceedings, the Coroner Courts to the Crown Court, Fields draws on her professional years for the extraordinary colour and texture that makes her writing jump off the page. Twice long-listed for the McIllvanney Scottish Crime Book of the Year, and a multi-bestselling author whose books have been translated across the globe, Fields consistently produces high impact, compelling novels that readers love.
The 'Perfect' series, set in Edinburgh, introduced the world to DI Luc Callanach. This year saw the release of Degrees of Guilt, her first psychological thriller in the name HS Chandler, a book as shockingly realistic as it is darkly entertaining.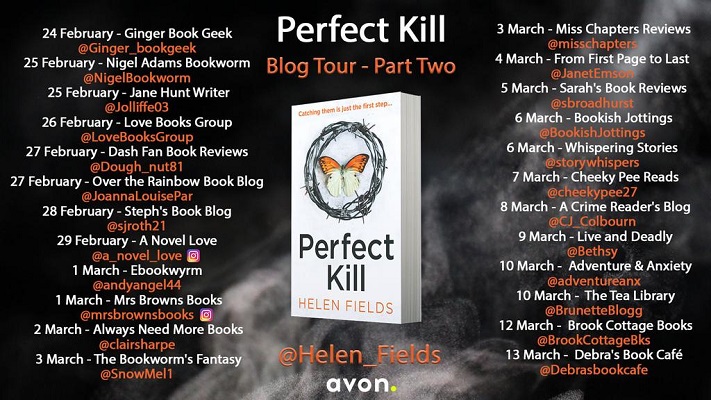 ---
What did you think of Perfect Kill? Share your thoughts in the comment section below!
---
The above links are affiliate links. I receive a very small percentage from each item you purchase via these link, which is at no extra cost to you. If you are thinking about purchasing the book, please think about using one of the links. All money received goes back into the blog and helps to keep it running. Thank you.
Like us on Facebook – Tweet us on Twitter – Pin us on Pinterest