Venators: Magic Unleashed by Devri Walls – Book Review
Venators: Magic Unleashed by Devri Walls – Book Review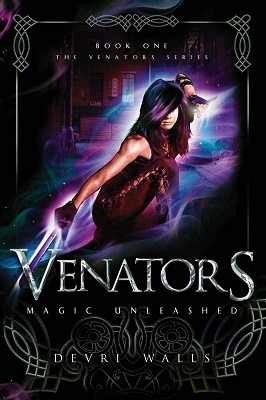 Venators: Magic Unleashed
Author – Devri Walls
Publisher – Brown Books Publishing
Pages – 376
Released – 1st April 2018
ISBN-13 – 978-1612549873
Format – ebook, paperback, audio
Review by – Stacey
Rating – 4 Stars
I received a free copy of this book.
This post contains affiliate links.


The dark unknown beckons.
Rune Jenkins has a long-standing infatuation with anything from the supernatural world, and she's trying to hide it. If she doesn't, she angers her reckless twin brother Ryker, and starts feeling like her own sanity is slipping. But the closer she gets to Grey Malteer – an old friend who waves his fascination with fantasy like a flag – the harder it becomes to stifle her own interest.
The supernatural suddenly invades their reality when other-worldly creatures come hunting for the three college students. With help from a mysterious savior Rune and Grey escape, but must follow Ryker's abductors into an alternate dimension, Eon, and discover their true identities. They are Venators, descendants of genetically enhanced protectors and sentries between Eon and Earth.
In this world of fae, vampires, werewolves, and wizards, power is abundant and always in flux. Ryker is missing, and Rune and Grey are being set up as pawns in a very dangerous game. The three must find their way through – and out of – Eon, before it consumes them.

Venators: Magic Unleashed is the first book in a new series by Devri Walls. It has been a long time since I have read a book featuring mythical/supernatural beings and so it took me a little while to get into the story.
The book begins on Earth and the fantasy element took a few chapters to emerge. There were a lot of characters to understand and to get to know, so many that I ended up having to write a list to remind me who was who.
The plot opens with someone called Tate awaiting a portal to open. I wasn't quite sure a first whether Tate was a supernatural person or whether he was some kind of creature. We then met Rune and Ryker, twin teenage humans. Rune is forever looking out for her brother who happens to be a bit of an arse. She is also experiencing some strange sensations and reactions within her body.
We also have Grey, another teenage human who was attacked six years ago by some kind of troll/eel/pig looking creatures. Ever since he has found he has special abilities including the ability to run fast. He keeps his abilities hidden in case people want to experiment on him.
I hope you are keeping up with me so far. Turns out that these teenagers are 'Venators', enhanced beings and they are wanted by hunters from another realm.
The book is fast-paced and there are a lot of supernatural beings thrown in together. The world-building was interesting and easy to imagine. The plot is filled to the brim with magic, mystery, and mayhem and it certainly takes you on an adventure.
There are a few subplots that interweave within the main and as the book progresses secrets are revealed and the roll of the Venators and why they are wanted is brought to the forefront.
If you are a lover of supernatural or even sci-fi YA books then this is certainly the book to pick up. I believe book two is already released. Unfortunately, whilst it was certainly enjoyable and intriguing I took so long trying to make sure that I understood everything that was happening and had to make so many notes that I don't think it will be a series I will be following.
Book Reviewer – Stacey
---
Purchase online from:
---
About the Author

Devri Walls is an international best selling author. She lives in Meridian, Idaho with her husband, two children and one adorable little mutt. Writing in all things fantasy, she would do just about anything for a working magic wand. Mostly because she's a walking disaster and a wand would be of enormous help…although she'd probably trip and break it. So, there's that.
She graduated with a degree in theater and has studied vocal performance most of her life. She now teaches voice lessons when she's not writing novels, cooking dinner, playing taxi, spending time with her amazingly supportive husband or trying to read.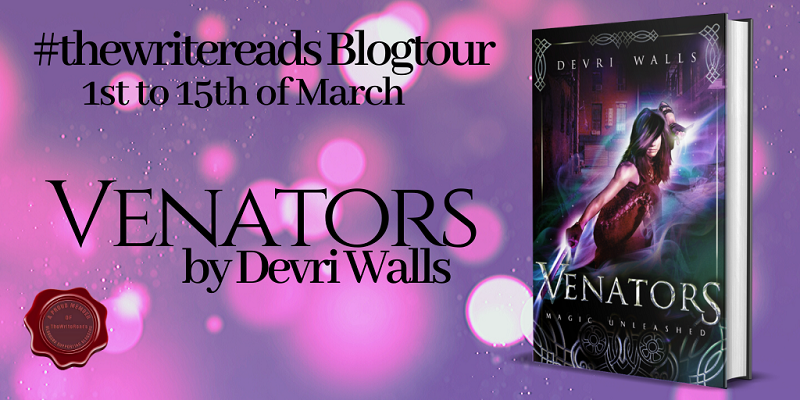 ---
What did you think of Venators: Magic Unleashed? Share your thoughts in the comment section below!
---
The above links are affiliate links. I receive a very small percentage from each item you purchase via these link, which is at no extra cost to you. If you are thinking about purchasing the book, please think about using one of the links. All money received goes back into the blog and helps to keep it running. Thank you.
Like us on Facebook – Tweet us on Twitter – Pin us on Pinterest