Christmas at the Gin Shack by Catherine Miller – Book Review
Christmas at the Gin Shack by Catherine Miller – Book Review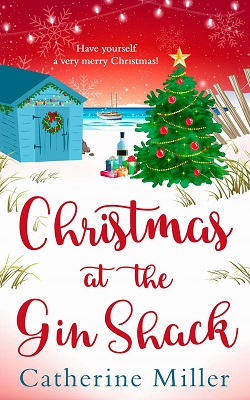 Christmas at the Gin Shack
Author – Catherine Miller
Publisher – HQ Digital
Pages – 384
Released – 13th October 2017
Format – ebook
Reviewer – Stacey
I received a free copy of this book
Post contains affiliate links
Gingle bells, gingle bells, gingle all the way…
Olive Turner might have lived through eighty-four Christmases, but she'll never get bored of her favourite time of year. And this one's set to be extra-special. It's the Gin Shack's first Christmas – and there's a gin-themed weekend and a cocktail competition on the cards!
But, beneath the dazzle of fairy lights and the delicious scent of mince-pies, Olive smells a rat. From trespassers in her beloved beach hut to a very unfunny joke played on her friends, it seems that someone is missing a dose of good cheer.
Olive knows she's getting on a bit – but is she really imagining that someone in the little seaside town is out to steal Christmas? More importantly, can she create the perfect gin cocktail before Christmas Eve – in time to save the day?
Review
When I first started reading 'Christmas at the Gin Shack', I never realised that it was the second book in a series. Though I agree that it can be read as a standalone, I believe, to have a better understanding of the characters, and how the Gin Shack came to be, book one really needs to be read first.
With the launch of a competition to find the 'Best Christmas Cocktail', Olive sets out to win. She has a lot of determination and knows a thing or two about gin, but when things start going wrong Olive isn't sure whether she is being sabotaged, or is just losing her mind in her old age.
I enjoyed getting to know 84 year old Olive Turner and her friends Veronica and Randy – the Oakley Trio, (they all live at Oakley West Retirement Home), plus Olive's son Richard too.
The book is filled to the brim with amusing scenes, mysterious goings on, and a few red herrings to throw you off the trail too. The was a lot of depth to the plot, which is beautifully realistic too, plus very addictive. You can almost smell and taste the cocktails, though I'm glad it was almost as I detest gin 🙂
It was lovely to read a story where the cast are not young twenty-somethings finding their place in the world. Olive is a woman who knows her place already, she is fun and energetic for an octogenarian and doesn't let anybody stand in her way (though her own body might!). If this story is anything to go by, there should be more books with older characters.
'Christmas at the Gin Shack', is the perfect festive book, and if you like gin too then you're on to a winner.
Reviewed by Stacey
---
About the Author

When Catherine Miller became a mum to twins, she decided her hands weren't full enough so wrote a novel with every spare moment she managed to find. By the time the twins were two, Catherine had a two-book deal with HQDigital UK. There is a possibility she has aged remarkably in that time.
Her debut novel, Waiting For You, came out in March 2016. She is now the author of four books and hopes there will be many more now her twins have started school. Either that, or she'll conduct more gin research on Olive's behalf.