The Killing Choice by Will Shindler – Book Review
The Killing Choice by Will Shindler – Book Review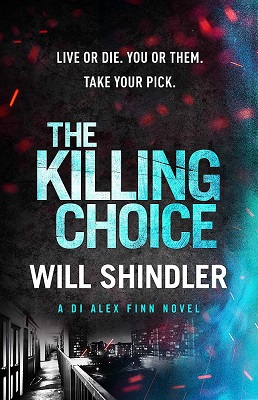 The Killing Choice
A DI Alex Finn Novel
Author – Will Shindler
Publisher – Hodder & Stoughton
Pages – 336
Released – 11th February 2021
ISBN-13 – 978-1529301755
Format – ebook, paperback, hardcover, audio
Rating – 5 Stars
I received a free copy of this book.
This post contains affiliate links.


Synopsis
'Leave your daughter with me, or I will kill you both'
It felt like a normal Friday evening before Karl and his daughter Leah were ambushed by a figure in a blank mask. At knife point, Karl is forced to make an impossible choice. Stay and die, or walk away from Leah and take this thug's word that they both will live.
Should Karl trust a villain and leave his daughter with a knife at her throat? Could he ever live with himself if he did?
It's not long before more seemingly unconnected and innocent people across London are offered a deal in exchange for their life. More blood is spilled, more families shattered, and more people are left to suffer with the consequences of their decisions.
DI Alex Finn and DC Mattie Paulsen must hunt for a killer that appears to have no face, no motive and no conscience before more victims are forced to make their choice.
The Killing Choice opens with a father and daughter, Karl and Leah Suleman meeting in a park in London before heading off for a curry. The pair are set upon by a knife-wielding man wearing a mask who gives them an ultimatum. Karl is to leave him and Leah alone whilst he rapes her, or he kills them both. Leah tells Karl to go that way they both get to live, however, the masked man had no intention of raping Leah, he was going to kill her all along.
DI Alex Finn is the man in charge of the murder investigation along with his team. All avenues are being looked at and investigated but the team is at a loss as to why nothing was taken, and Leah wasn't attacked, just killed. Plus, they can't seem to get their heads around why Karl left his daughter.
With the murderer now taunting Karl and claiming other victims too in a similar fashion, the hunt is on to catch a ruthless killer before more families are destroyed.
This is a book that will get under your skin as you not only try to work out who the killer is and their motive but also why his targets react the way they do. Karl's decision to leave his daughter is played out in the media and he is judged just like I the reader did. Being a parent I know for a fact that I would never leave my child alone with a violent man, knife or no knife, so trying to understand Karl's reasonings made my head hurt and although he had lost a daughter I found it difficult to like him.
The plot becomes very twisty as more families are devastated by this person. Could these seemingly innocent and unconnected victims really be connected in some way? Is this a person looking for revenge or someone just on the edge randomly killing people?
The writing is superb and whilst I enjoyed Will Shindler's first DI Alex Finn novel, The Burning Men, the whole scenario, characters, and scenery had me loving this one far more. It is not only thrilling it is a conundrum too that will have you trying to fit all the pieces together. Plus DI Finn is a flawed detective whose wife had just died in the first book and comes across as having survivor's guilt which he has to work through as well as missing his wife and trying to move on.
Purchase Online From:
---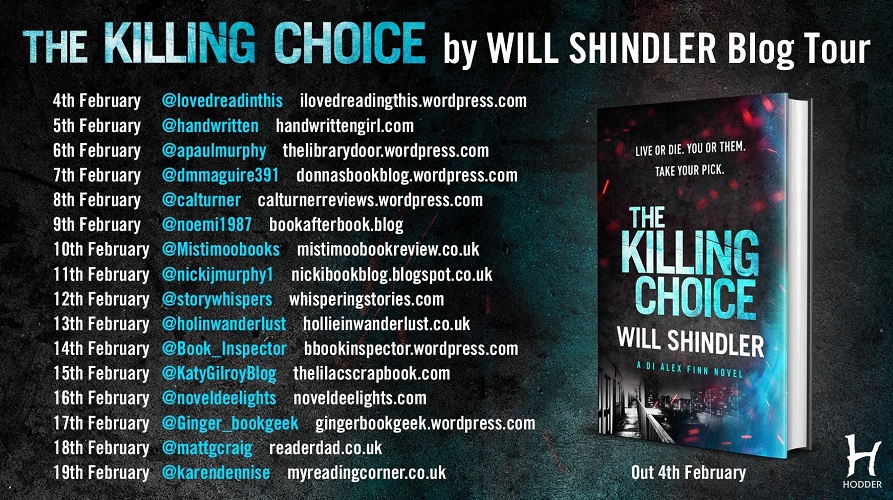 ---
What did you think of 'The Killing Choice'? Share your thoughts in the comment section below!
---
The above links are affiliate links. I receive a very small percentage from each item you purchase via these link, which is at no extra cost to you. If you are thinking about purchasing the book, please think about using one of the links. All money received goes back into the blog and helps to keep it running. Thank you.