The Burning Men by Will Shindler – Book Review
The Burning Men by Will Shindler – Book Review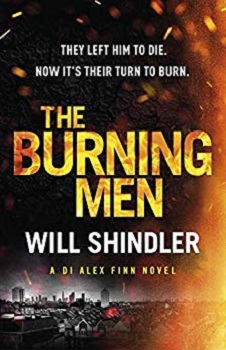 The Burning Men
Author – Will Shindler
Publisher – Hodder & Stoughton
Pages – 352
Released – 6th February 2020
ISBN-13 – 978-1529301694
Format – ebook, paperback, hardcover, audio
Review by – Stacey
Rating – 4.5 Stars
I received a free copy of this book.
This post contains affiliate links.


When a development in South London catches fire mid-construction, a close-knit team of fire fighters runs in to save a man spotted at the window.
They come out without a body. They quit the service. They plan never to speak to each other again.
Five years later one of them is set alight at his own wedding. Soon after, a second is found, nothing but a smoking corpse. It appears that someone knows what they did that night. What they chose over their duty. And there are still three men left to burn . . .
DI Alex Finn and his new partner DC Mattie Paulsen are an unlikely pairing, but they need to discover who is behind these killings before the next man faces the fire.

If there ever was a book to get under my skin, it is this one. The book begins five years before the main plot with a construction site for fancy new apartments on fire. Numerous fire engines attended the scene. The building was supposed to be empty but then someone is seen waving from a top window. A team of fire officers enters the building to rescue the person but something happens within that fire and soon after they all quit the service and vow never to speak to one another again.
Five years later one of the ex-firemen has just gotten married when he is set alight in the hotel toilets where his reception is. The other ex-fire officers are worried it has some to do with their decision five years ago and they should be as another of them is soon found dead, again burned alive.
DI Alex Finn asks to be assigned to the case as he wants to return to work. His wife has just died of a brain tumour and he is on leave, stuck at home not knowing what to do with himself. He is partnered with new DC Mattie Paulsen as his boss seems to think Alex will be a good teacher.
The synopsis had me hooked and a desire to know more and so I couldn't wait to get started. I was a little disappointed with the first chapter titled 'Five Years Ago' as I was expecting a little more information regarding the fire and the unsuccessful rescue but I soon left that feeling behind once the book began, although I'm not sure how I felt with the back and forth in time throughout, I'm more of a chronological time reader, but then again I'm not sure the book would work set in this way.
Some of the scenes were gruesome but the plot is certainly gripping. I enjoyed the relationship between DI Finn who was trying his hardest not to let his grief overtake him and keep himself professional and DC Paulsen who was trying to deal with her past problems and sometimes had outbursts. It was fascinating to watch the pair trying to piece the evidence together and to try to work out who the killer was and why they were obviously looking for revenge.
I can honestly say this is a book that kept me guessing. I was trying to figure out what these five officers could have done and why with such long service behind them did they do what they did. It takes a lot to surprise me, but this book certainly did just that, a good feat for a debut novelist.
Having been kept on my toes and on edge throughout I now can't wait to hear more from author Will Shindler and his detectives.
Book Reviewer – Stacey
---
Purchase online from:
---
About the Author

Will Shindler has been a Broadcast Journalist for the BBC for over twenty-five years, spending a decade working in television drama as a scriptwriter on Born and Bred, The Bill and Doctors.
You can currently find him every weekday on the radio reading the news headlines, whilst writing crime novels in the afternoon. Will has previously worked as a television presenter for HTV, a sports reporter for BBC Radio Five Live, and one of the stadium presenters at the London Olympics.
His debut novel, The Burning Men, has been published by Hodder.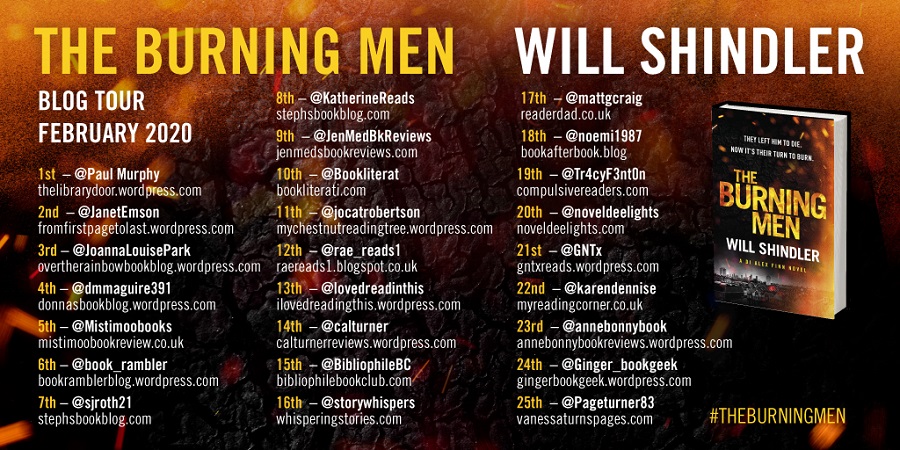 ---
What did you think of The Burning Men? Share your thoughts in the comment section below!
---
The above links are affiliate links. I receive a very small percentage from each item you purchase via these link, which is at no extra cost to you. If you are thinking about purchasing the book, please think about using one of the links. All money received goes back into the blog and helps to keep it running. Thank you.
Like us on Facebook – Tweet us on Twitter – Pin us on Pinterest