Flora's Travelling Christmas Shop by Rebecca Raisin – Book Review
Flora's Travelling Christmas Shop by Rebecca Raisin – Book Review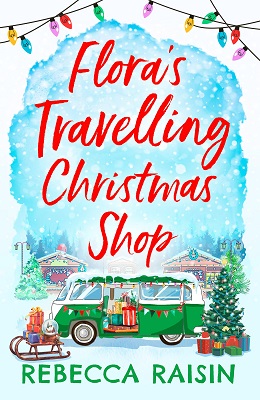 Flora's Travelling Christmas Shop
Author – Rebecca Raisin
Publisher – HQ Digital
Pages – 304
Released – 28th October 2021
ISBN-13 – 978-0008471415
Format – ebook, paperback, audio
Rating – 4 Stars
I received a free copy of this book.
This post contains affiliate links.


Synopsis
'Tis the season for mulled wine, mince pies, and magic under the mistletoe…
Flora loves Christmas more than anything else in the world, so she's gutted when her Scrooge-alike boss fires her from Deck the Halls Christmas emporium. But now she finally has a chance to follow her dreams – and what better place to start than the home of Christmas?
Before she can say 'sleigh bells', Flora's on her way to Lapland in a campervan-cum-Christmas-shop. She can't wait to spend her days drinking hot chocolate and taking reindeer-drawn carriage rides, but something Flora didn't expect was meeting Connor, a Norse god of a man who makes her heart flutter and snowflakes swirl in her stomach. There's just one problem: Connor hates Christmas.
Can Flora convince Connor of the joys of Christmas – and will she find a festive romance along the way?
No one could love Christmas more than Flora. If she could spend all year being in festive cheer she would. She even wears festive clothes, has shoes with reindeer on them, and has her dream job working at Deck the Halls Christmas emporium.
That is until everything starts to go wrong for her. Her best friend and roommate announces she is off to America and she is fired from her job for being too kind. Depressed about what to do next, her friend gives her the idea to start her own Christmas shop from a van, but Flora takes it to the extreme and decides that is a great idea but she is going to open her van store in Lapland, the home of Christmas.
If you love Christmas and festive reads you are going to adore this book. It screams Christmas the whole way through and I've never met anyone who loves the festive season anywhere near as much as Flora does, thank goodness. I like Christmas from 1st December-25th December, then I'm happy not to hear it mentioned for another twelve months.
The book is joyful, the characters adorable, and as it is mentioned once or twice in the book, that Flora's life could pass for a Hallmark movie, as she goes on an adventure to a place she has never been before and meets a real hunk who she is at loggerheads with from the minute they meet, one who hates Christmas.
Flora's Travelling Christmas Shop will put a smile on your face, especially at all the witty moments. It will leave you feeling warm and happy inside. It is a book to read when you need a pick-me-up or to get you festive ready. So sit by your twinkling tree and float off to freezing cold Lapland with Flora and her van.
Purchase Online From:
---
What did you think of 'Flora's Travelling Christmas Shop'? Share your thoughts in the comment section below!
---
The above links are affiliate links. I receive a very small percentage from each item you purchase via these links, which is at no extra cost to you. If you are thinking about purchasing the book, please think about using one of the links. All money received goes back into the blog and helps to keep it running. Thank you.
Like us on Facebook – Tweet us on Twitter – Pin us on Pinterest – Join us on Instagram