Spies Never Quit by M Taylor Christensen – Book Review
Spies Never Quit by M Taylor Christensen – Book Review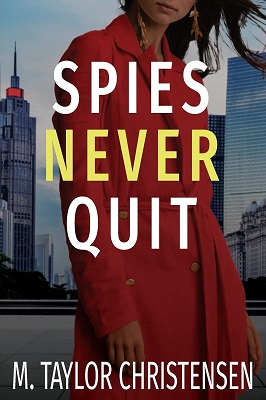 Spies Never Quit
Banana Girls Book One
Author – M Taylor Christensen
Publisher – Moon Zoom Press
Pages – 286
Released – 21st August 2021
ISBN-13 – 978-1951454036
Format – ebook, paperback, hardcover
Rating – 5 Stars
I received a free copy of this book.
This post contains affiliate links.


Synopsis
If the only way to save her mother is to act like a spy, Mari can act like a spy.
Maybe.
After her mother is abducted, Mari Sandoval breaks into her mother's research lab in an ill-advised attempt to appease the kidnappers. Fortunately she's thwarted by two spunky sorority girls who offer her a better way to save her mother—become a spy.
In the fast-paced world of undercover agents—where fabulous new clothes, high-tech gadgets, and flirting for secrets are the norm—Mari's inexperience could ruin everything.
Will she be able to master the art of espionage in time to rescue her mother from the clutches of a maniac? Or will her undercover mission doom them both to imprisonment?
College freshman Mari Sandoval has a big problem. A shadowy figure calling himself "Brax" has kidnapped her scientist mother and is holding her hostage until Mari hands over Mom's top-secret research. Alone and unsure, Mari is about to do just that when she's stopped by a group of young women calling themselves the "Banana Girls."
Mari soon learns that these women may be college students but they're no ordinary coeds. They live in a posh penthouse, fight like ninjas, drive a fleet of exotic cars, and have gadgets James Bond would envy. What follows is a page-turning adventure with Mari and the Banana Girls teaming up to try to rescue Dr. Sandoval and checkmate the bad guys. Mari is certainly motivated, but she's not an experienced spy. Can she pull off her undercover assignment or will the bad guys prevail?
This book is a spy thriller and more. Although she's barely out of high school, Mari finds she must jump into adulting with both feet. She tackles the challenge with grit and steadfast determination. As the story progresses, she grows to overcome her self-doubts, ultimately discovering she's capable of much more than she imagined.
I like strong female characters and Spies Never Quit has plenty of them. The four Banana Girls are smart and resourceful, of course. Plus, Mari herself has more strengths and talents than she realized. As supporting characters, the Banana Girls are somewhat less fleshed out, but they are still (mostly) convincing. And I was impressed that a male writer did such an excellent job making his female protagonists believable. Furthermore, when the tension ratchets up, it's done with action, not produced artificially by having characters play head games with themselves.
At times, the book is a bit over the top. For example, the Banana Girls have cars that can change color on demand, they have a seemingly endless supply of high-tech electronics, and the supposedly top-secret operation runs out of a flashy condo. But spy stories are often over the top, and Spies Never Quit never reaches the level of satire of, say, Get Smart, the spy spoof show that played on American television in the 1960s.
Even if it is a bit escapist, this book was so much fun to read I had no trouble suspending disbelief when the story required it. Spies Never Quit is a thriller and an adventure with a dash of romance. For me, it was a thoroughly enjoyable read. I'm eagerly looking forward to the promised sequel.
Purchase Online From:
---
What did you think of 'Spies Never Quit'? Share your thoughts in the comment section below!
---
The above links are affiliate links. I receive a very small percentage from each item you purchase via these links, which is at no extra cost to you. If you are thinking about purchasing the book, please think about using one of the links. All money received goes back into the blog and helps to keep it running. Thank you.
Like us on Facebook – Tweet us on Twitter – Pin us on Pinterest – Join us on Instagram