Eight Perfect Hours by Lia Louis – Book Review
Eight Perfect Hours by Lia Louis – Book Review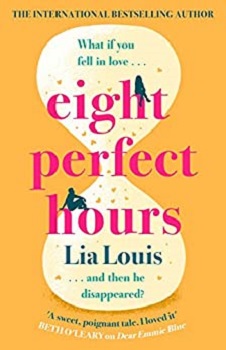 Eight Perfect Hours
Author – Lia Louis
Publisher – Orion
Pages – 217
Released – 17th June 2021
ISBN-13 – 978-1398703261
Format – ebook, paperback, audio
Rating – 4.5 Stars
I received a free copy of this book.
This post contains affiliate links.


Synopsis
What if you fell in love…and then he disappeared?
When Noelle and Sam's lives collide one snowy evening, they spend eight perfect hours stuck side by side believing that they'll never see each other again.
But soon their lives become entangled in ways they never expected – and it's going to change everything…
On the way back from a school reunion party Noelle Butterby hits traffic on the motorway eventually coming to a stop due to heavy snow and a jack-knifed lorry.
She is in a bit of a panic as her phone has died and she needs to check on her disabled mother, who recently had a stroke. In the car next to her is Sam, an American who was heading to the airport to return home. He offers Noelle the use of his charger and for the next few hours the pair chat endlessly about everything and anything, then in the early hours of the morning the road reopens and they go their separate way.
Noelle's old best friend who died when they were teenagers believed a Chinese proverb about an invisible red thread that connects those that are destined to meet and sure enough, Noelle and Sam now can't help bumping into one another.
Eight Perfect Hours is a feel-good book that had me rooting for these two caring and likeable characters who after a chance encounter on the motorway now can't stop bumping into one another. I loved the plot and the idea of the invisible red thread – I'd never heard of the proverb before.
There were some secondary plots involving ex's family, and friends, which I wasn't that interested in as they contained some characters that really got on my nerves, especially Ed and Dilly. However, luckily these didn't spoil my enjoyment of the main plot which was heart-warming, realistic, and sweet.
The book feels very much like a plot from a romance movie with two people who clearly like one another but life and circumstances stand in their way but destiny, or the red thread, have other ideas. It genuinely is a beautiful book, which is well-written and had me gripped to the pages finishing it in just two sittings.
Purchase Online From:
---
What did you think of 'Eight Perfect Hours'? Share your thoughts in the comment section below!
---
The above links are affiliate links. I receive a very small percentage from each item you purchase via these links, which is at no extra cost to you. If you are thinking about purchasing the book, please think about using one of the links. All money received goes back into the blog and helps to keep it running. Thank you.
Like us on Facebook – Tweet us on Twitter – Pin us on Pinterest – Join us on Instagram