Post-Midnight Blues by Rae Toonery – Promo Post
Post-Midnight Blues by Rae Toonery – Promo Post
AD – Today on the blog we welcome author Rae Toonery, with their Promotional Post for their new book 'Post-Midnight Blues: The trapped narrative of a harrowed hermit and her home-sick hound', which was released on 25th July 2021 and is available in ebook, paperback and FREE with Kindle Unlimited.
From 1st-5th November Post-Midnight Blues will be free to download on Kindle too.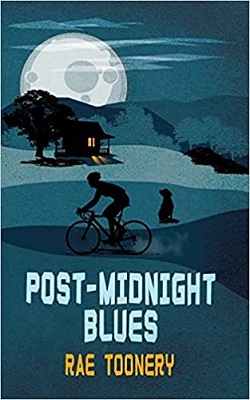 Post-Midnight Blues
Author – Rae Toonery
Pages – 219
Release Date – 979-8543559918
ISBN 13 – 25th July 2021
Format – ebook, paperback

She's a neurotic non-binary seeking forgiveness; he's a heartbroken hound desperately seeking his master: together they are… dysfunctional.
Con is living in self-imposed isolation after an accidental death that she blames herself for. Her only contact with the outside world is the occasional midnight trip to the local supermarket and her visits from loyal colleague, Sandeep.
Deadpan companion, Heathcliffe the Lurcher, has his own issues: most notably an inexplicable fixation with post boxes. Can these two social misfits find a way to readjust and make peace with the past?
---
What Reviewers' are Saying
– Apart from the obvious, laugh out loud humour I also love the fact that Heathcliffe himself is on his own mission to be reunited with his previous owner – 5 Stars
– I loved this book – Con and Sandeep are a relatable, enjoyable and realistic pair of friends – 5 Stars
– Heathcliffe's dry thoughts are often hilarious and offer a stark contrast to Con's state of mind. – 4 Stars

---
"Always this: come back, it's not your fault, see someone. It's like you're talking in code. What isn't her fault? See someone? She's seeing someone now you silly. She's seeing you. Sandeep? Heathcliffe places his paw in Sandeep's lap and tilts his head from side to side."
---
Purchase Online From:
---
Share your thoughts on 'Post-Midnight Blues' in the comment section below!
---
This is a sponsored post.
Like us on Facebook – Tweet us on Twitter – Pin us on Pinterest