Naked Truth: Or Equality, The Forbidden Fruit by Carrie Hayes – Promo Post
Naked Truth: Or Equality, The Forbidden Fruit by Carrie Hayes – Promo Post
Sponsored Post. Today we welcome author Carrie Hayes to Whispering Stories with her Promotional Post for her new historical novel 'Naked Truth: Or Equality, The Forbidden Fruit', which was released on 29th February 2020.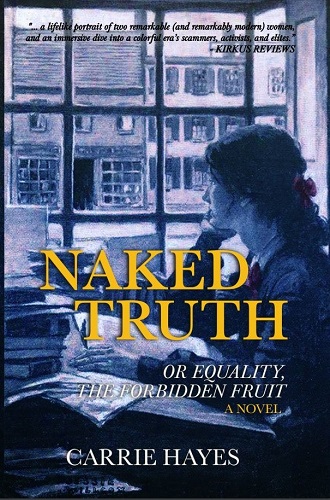 Naked Truth: Or Equality, The Forbidden Fruit
Author – Carrie Hayes
Publisher – HTPH Press
Pages – 324
Release Date – 29th February 2019
ISBN 13 – 978-0578229102
Format – ebook, paperback

From Washington Heights to Washington D.C. comes a true American Herstory. Filled with intrigue, lust, and betrayal, this is the fight for sexual equality.
1868, on the eve of the Gilded Age: Spiritualist TENNESSEE CLAFLIN is smart, sexy, and sometimes clairvoyant. But it's her sister, VICTORIA WOODHULL, who is going to make history as the first woman to run for President of the United States.
It starts with the seduction of the richest man in America. Next, they'll take New York City and the suffragist movement by storm, because together, Tennessee and Victoria are a force of nature. Boldly ambitious, they stop at nothing, brushing shoulders with Harriet Beecher Stowe and Susan B. Anthony, using enough chutzpah to make a lady blush.
That is, until their backstabbing family takes them to court, and their carefully spun lives unravel, out in public and in the press.
Told from shifting points of view and using actual news reportage from the era, Naked Truth or Equality is a riveting inside look into the struggle for women's rights after the Civil war.
What reviewers' are saying:
– This is an absolute must read for anyone who enjoys historical or political literature. 5 Stars
– It is fresh, it is vibrant, and the story is one that has been waiting to be told. 5 Stars
– Don't miss this book, just be sure to read it next to your computer. it'll have you running to Google for more information on these amazing women. 5 Stars

---
May 1868 – The Improved Movement Cure Institute – 67 West Thirty-Eighth Street
THE DOOR IS ajar, enough to lean forward and peer out. "My God!" Tennessee mutters. She was careful to arrive unseen by all and sundry and has been confined to the water closet a good thirty minutes. She opens her bag next to the commode. "Must I live this life always?" If she leans toward the left, she can spy her sister closing the drapes while someone else lights candles on a large round table. Tennessee fumbles out of her jacket and unbuttons her skirt. She leans toward the right, and her skirt falls to the ground. She pushes it aside with her foot, then steps out of her boots. She hasn't bothered with undergarments. All she wears is a thin chain round her neck with a pick for the lock she practiced on earlier. "After tonight," she promises herself, "you'll be your own mistress." Stock brokerage, Tennessee decides. She unpins her hair. Investment, that's what she'll do. After all, this is New York City. Enough with the séance shenanigans.
She slips on a gossamer sheath and runs her fingers over the fabric. It's transparent, save for the illuminated paint they'd used earlier. Just a bit, here and there, to enhance its otherworldliness. She hears the participants enter, taking their seats around the table. They introduce themselves using their given names only. Tennessee puts a black cloak over her shoulders and angles herself to study the Spirit Box on the far side of the room. The box is tall as a man and made of quarter sawn oak. Earlier, when Victoria confirmed the appointment, Tennessee had protested that they hadn't performed the Spirit Box in ages.
But Victoria had smiled, "It will be fresh then, won't it?" which tickled Tennessee's funny bone. Fresh for crazy, unrehearsed, and dangerous. Like it was when they were girls, scrambling, conniving, and doing their damnedest to make it work out. Then Victoria had added, "Afterall, Tennie, it's not as though you're a blushing virgin." Which is true enough.
The candles are placed in front of each participant. Tennessee watches Victoria sit down next to a familiar looking woman.
"I thought your sister was in attendance?" the woman whose name is Harriet whispers to Victoria.
"She will join us later, at the reception," Victoria answers, then says to the others, "May I request that we begin with one of my favorites, Jesus, Lover of My Soul? I am Mrs. Woodhull. I mean, Victoria," and extends her arms as everyone at the table joins hands.
There is a moment's stillness. "Oh, Lord," Victoria says, looking heavenward. "It is my prayer that Your love may abound, so our hearts are pure and blameless for the day of Christ. Filled with the fruit of righteousness, to the glory and praise of God. Amen." The participants answer, "Amen."
Victoria gently releases the hands on either side of her and instructs, "After I am secured within the Spirit Box, please, blow out your candles and begin to sing." A man walks her to the cabinet. He binds her wrists with a silken cord, then closes the door and locks her in. The key safely inside his waistcoat, he returns to his seat. Everyone there is a devoted believer, each with a passionate reason for attending. They rejoin their hands, their elbows suspended in the air above the table. Harriet blows out her candle and the others follow suit. The darkness is absolute. Someone begins, then everyone joins in.
Purchase online from:
In honor of American women winning the right to vote 100 years ago this month the ebook copy is FREE to download on the 26th and 27th August on Amazon.
---
About the Author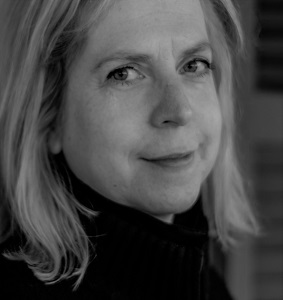 Over the years, Carrie has tried a lot of things. She's sold vacuum cleaners, annuities and sofas. She's lived at the beach and lived in Europe. She's taught school and worked in film. For a while, she was an aspiring librarian, but she fell in love and threw her life away instead.
Back in the States, she started over, then met an architect who said, "Why don't you become a kitchen designer?" So, she did. Eventually she designed interiors, too. And all that time, she was reading. What mattered was having something to read. Slowly, she realized her craving for books sprang from her need to know how things would turn out. Because in real life, you don't know how things will turn out. But if you write it, you do. Naked Truth or Equality the Forbidden Fruit is her first book.




---
Share your thoughts on 'Naked Truth: Or Equality, The Forbidden Fruit' in the comment section below!
---
*This is a sponsored post
Like us on Facebook – Tweet us on Twitter – Pin us on Pinterest