Agenda Indiscriminate by Peter Harper – Promo Post
Agenda Indiscriminate by Peter Harper – Promo Post
AD – Today on the blog we welcome author Peter Harper with his Promotional Post for his new book 'Agenda Indiscriminate: A Leap of Justice', which was released on 17th June 2021 and will be free to download on Amazon Kindle between 6th & 10th August 2021.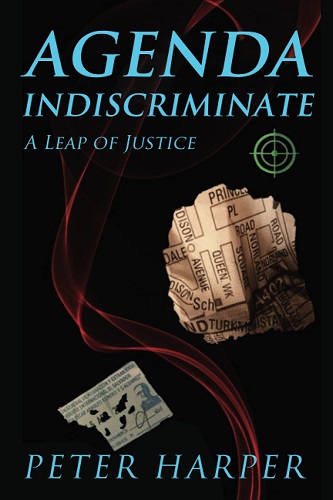 Agenda Indiscriminate


A Leap of Justice
Author – Peter Harper
Pages – 336
Release Date – 17th June 2021
ISBN 13 – 979-8522356538
Format – ebook, paperback

Unable to come to terms with the shocking murder of his lover, Rafael Maqui abandons his work as a filmmaker and leaves London for his homeland, El Salvador. Despite his unstable state of mind, he accepts an initiative, via the provisional government, to negotiate with the notorious MS-13 criminal gang a de-escalation in the violence that is crippling the country. When events turn sour, Rafael chances upon Senica, a peasant whose courage over adversity inspires him to put his life in order.
With an unfinished screenplay sitting in London, and an impatient producer on his back, Rafael returns to the city that took his lover's life. Here, he redrafts the script, which in essence threatens to expose an insidious global nightmare. In the midst of the tight schedule to which he is having to work, and just as he re-establishes contact with Senica, Rafael finds himself terrorised by a crazed gunman. Betrayal and an audacious act of defiance from an unlikely source ensue, before a deadly strategy no one could have predicted surfaces, driven by unadulterated revenge.
---
What Reviewers' are Saying
– The characters are well developed and the storyline will pull you in from the first page and keep you guessing what will happen next. – 5 Stars
– This book was amazing down to the last page. – 5 Stars
– As a reader, I was immediately captivated by the plot because I felt like a silent but crucial witness of his story. – 5 Stars

---
Agenda Indiscriminate is currently FREE on Amazon between the 6th August 2021 and 10th August 2021, so grab a copy quick!
Purchase Online From:
---
Share your thoughts on 'Agenda Indiscriminate' in the comment section below!
---
This is a sponsored post.
Like us on Facebook – Tweet us on Twitter – Pin us on Pinterest