Pretty Broken Dolls by Jennifer Chase – Book Review
Pretty Broken Dolls by Jennifer Chase – Book Review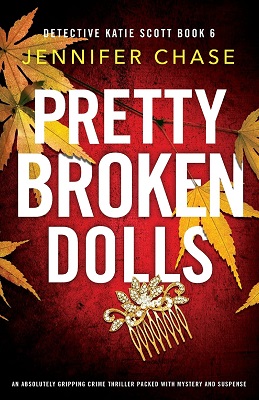 Pretty Broken Dolls
Detective Katie Scott Book Six
Author – Jennifer Chase
Publisher – Bookouture
Pages – 301
Released – 5th August 2021
ISBN-13 – 978-1838888985
Format – ebook, paperback, audio
Rating – 5 Stars
I received a free copy of this book.
This post contains affiliate links.


Synopsis
In the thin light of the moon, the woman's limp body hangs from the iron fence amongst the redwoods. Looped over the railings is the little gold locket her mother gave her when she turned sixteen. The picture of the girl inside smiles out at a future she'll never see…
As day breaks over the fairground, Detective Katie Scott forces herself to take in another disturbing scene in front of her. A woman, the same age as her, found slumped in the carriage of the Ferris wheel, red lipstick dragged across her lips, her throat cut.
Katie doesn't want to believe that the serial killer picking off women across the state has found their way to the small town of Pine Valley, California, but when her team finds a gold engagement ring hanging nearby, it's a terrifying, but undeniable fact.
With a twisted killer on her doorstep, Katie knows if she doesn't act fast, she'll find more women left out in the cold like broken dolls. Her team hit dead end after dead end, but only she can see the vital link between the victims: a connection with Katie herself.
Katie has spent years pushing traumatic memories of her years in the military far out of reach, but she must confront them now or more innocent women will die. But as the killer circles closer and closer to Katie, what if the only answer is to give him what he wants? There must be another way…
Jennifer Chase is back with the sixth instalment of her Detective Katie Scott series. This time Detective Scott is on the hunt for a serial killer that has been killing women and leaving them looking like broken dolls for others to find. The killer has struck in different parts of California and now they are in Detective Katie Scott and Deputy Sean McGaven's territory – Pine Valley.
Helping them out is Special Agent Dane Campbell who has been following the killer and trying to work out who they are and bring them to justice. It isn't long before Katie realises that there is a connection to her past and her military career and the plot starts to unravel for her.
Jennifer Chase is a pure master when it comes to writing exciting, edge of your seat thrillers. I have loved this series since the very beginning and look forward to meeting Katie again with each new book. I also know that the writing will be spot on and the cases gruesome and yet enthralling.
Pretty Broken Dolls had me second-guessing each new character that appeared, wondering what they had to do with the case and could they be the killer. With all the twists, turns, and red herrings thrown in I was left guessing for a long time and only clicked just before the reveal. I love a book that I can't second guess.
As with all of the others in the series, this book is fast-paced and I flew through it in just two sittings. I did not want to put it down. I now can't wait for book seven, bring it on!
Purchase Online From:
---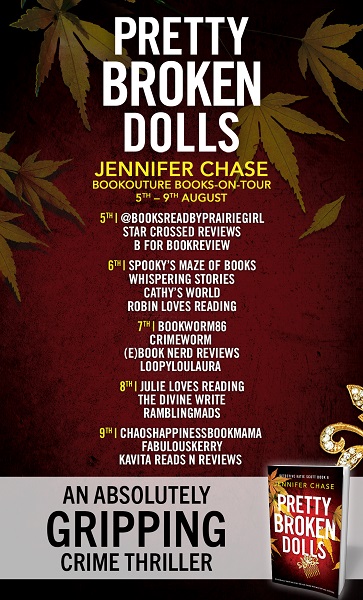 ---
What did you think of 'Pretty Broken Dolls'? Share your thoughts in the comment section below!
---
The above links are affiliate links. I receive a very small percentage from each item you purchase via these link, which is at no extra cost to you. If you are thinking about purchasing the book, please think about using one of the links. All money received goes back into the blog and helps to keep it running. Thank you.
Like us on Facebook – Tweet us on Twitter – Pin us on Pinterest – Join us on Instagram