Mystery Writers – They're Just Like US By Elizabeth Pantley – Guest Post
Mystery Writers – They're Just Like US By Elizabeth Pantley – Guest Post
Today on the blog we welcome author Elizabeth Pantley, with her guest post 'Mystery Writers – They're Just Like US'. Her book Falling into Magic was released on 12th November 2020. This post contains affiliate links.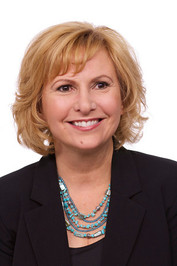 Elizabeth Pantley is the international bestselling author of The No-Cry Sleep Solution and twelve other books for parents. Her books are published in over twenty languages. She lives in the Pacific Northwest and is the mother of four and Nana to one. This is her first work of fiction.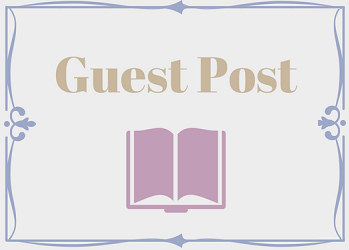 Mystery Writers – They're Just Like US
In Falling into Magic our protagonist, Hayden is somewhat of a gossip. She's always asking questions and poking her nose in where it doesn't belong. She naturally loves entertainment magazines – the celebrity scale gossip. She reads People, Lifestyle, Hello! and US magazines, and she loves to talk about what she learns. She says it's to stay informed about the world, but the fact is, it's a fun source of conversation among her fellow magazine fans. So, to parallel a feature she enjoys, "Stars: They're Just Like US!" Here you have "Mystery Writers – They're Just Like US!"
THEY WALK THEIR DOGS!
Well, to be honest they walk their dogs, play with their cats and feed their bunnies. Mystery writers tend to love their pets and they feature lovable furry creatures in many of their stories. And feisty, sneaky and hilarious creatures, too!
THEY BAKE!
Oh, the descriptions of delicious baked goods – and even recipes! What's the best way to distract from the gruesome facts of a murder investigation? A delicious meal, a tasty cake or a tray of pretty cupcakes always does the trick.
THEY NEED CAFFEINE!
Whether it's in the form of coffee, tea or soda, mystery writers often have a cup at their desk. Writing happens at all hours of the day – and often the night – so that jolt of caffeine is important.
THEY TAKE OUT THE TRASH!
And occasionally, they analyze it for murder motives or dig through it for clues.
THEY TALK TO THEIR CATS!
Of course they do! Cats, dogs, hamsters and fish are all great listeners when you're trying to solve a mystery. They don't interrupt, they always look interested, and they might even come up with a great clue every once in a while.
---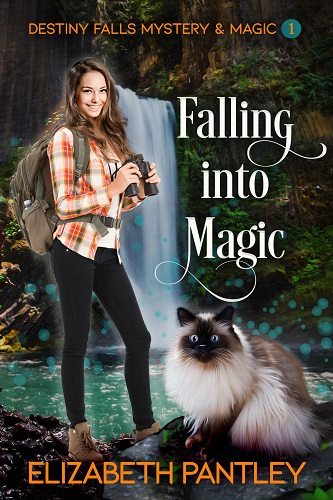 Falling into Magic


Destiny Falls Mystery & Magic Series Book One
Author – Elizabeth Pantley
Publisher – Better Beginnings Inc
Pages – 299
Release Date – 12th November 2020
ISBN 13 – 978-1735925219
Format – ebook, paperback

When Hayden was a child, she lost her cat. Adults told her the cat ran away, but she knew the truth. The mirror had taken her.
She knew because the mirror had given her a glimpse of an alternate world and had nearly pulled her in, so she was certain the cat had suffered that fate.
Twenty years later Hayden discovers the secret of the mirror when she is thrust into it. She learns of a world she never knew existed, and a family she never knew she had.
But danger brought her here, and it followed her. Now, Hayden is on a mission to remove the threat, so that she can begin her magical, meaningful new life in this enchanted world.
---
Pre-Order online from:
---
Excerpt
While Olivia was inside getting our refreshments, I noticed that she had a stack of entertainment magazines on her table. Great! A fellow fan. I had a sudden pang of missing Nana and Gran. This trip had already felt very long, and I still had no idea how much longer I'd be here. Luckily, they had been very supportive of my trip and encouraged me to stay and make the most of it.
Olivia came outside with a large tray filled with lemonade, cookies, and huge red strawberries. She seemed happy to have guests.
"I see you like the magazines," I said. "Me and my Nana, we love to drink tea and read them. We dissect US and People nearly every week." I said.
Olivia looked at me with a kind expression, "I love how you said "my Nana" with such affection. Are you close?"
I beamed, "We are. She raised me and she's one of my best friends."
I spied the open page of the magazine she was reading. "Who do you think the new Taylor Swift song is about?" I asked.
Axel was watching the two of us with amusement. I know lots of guys don't get the magazine and celebrity thing. But I don't get the football game thing. Every game looks the same to me. To each his own.
While Olivia and I discussed the lives and loves of various celebrities, Axel had tuned us out and was texting away on his phone. Soon the conversation turned to the murder, and Axel rejoined our chat.
It turned out that Olivia didn't just know about celebrities. She knew about everyone in town, too. She would be a great source to learn more about the people we had seen at the party.
---
Author Links


---
Share your thoughts on 'Mystery Writers – They're Just Like US' Guest Post in the comment section below!
---
The above links are affiliate links. I receive a very small percentage from each item you purchase via these link, which is at no extra cost to you. If you are thinking about purchasing the book, please think about using one of the links. All money received goes back into the blog and helps to keep it running. Thank you.
Like us on Facebook – Tweet us on Twitter – Pin us on Pinterest