Matilda by Roald Dahl – Book Review
Matilda by Roald Dahl – Book Review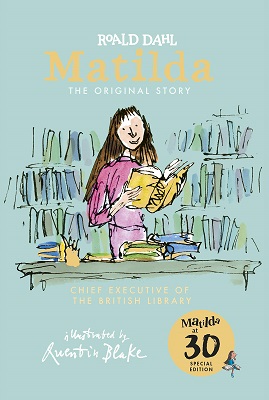 Matilda
Author – Roald Dahl
Illustrator – Quentin Blake
Publisher – Puffin
Pages – 240
Released – 4th October 2018 (Originally released 1st October 1988)
ISBN-13 – 978-0241378694
Format – ebook, paperback, hardcover, audio
Review by – Stacey
Rating – 5 Stars
This post contains affiliate links.


Matilda is the world's most famous bookworm, no thanks to her ghastly parents.
Her father thinks she's a little scab. Her mother spends all afternoon playing bingo.
And her headmistress, Miss Trunchbull?
She's the worst of all.
She's a big bully, who thinks all her pupils are rotten and locks them in the dreaded Chokey.
Despite these beastly grownups trying to push her down, Matilda is an extraordinary girl with a magical mind.
And she's had enough.
So all the terrible adults had better watch out, because she's going to teach them a lesson they'll never forget!

As a child, I was a massive Roald Dahl fan and spent hours with my nose in his books. At school, we had to read his older children's work on his life, Boy and Going Solo. However, over the years I have noticed that I never actually read a few of his work, namely Danny the Champion of the World, The Witches, and Matilda.
This wasn't something I really thought about recently until I saw it on Sarah Cox's book show as one of the guests 'Bring Your Own Book' and she made it sound so appealing that I ordered it right away and then read it in a day. Why, oh why, did I ever leave it so long.
The book is for any bookworms no matter your age, it is a book about a bookish child. A child who loves all the classics. It is also a book about nasty people and how through being very clever from reading this little five-and-a-half-year-old Matilda gets her revenge.
The book is truly amazing. It was a beautiful, fun, energetic read and I fell in love with the little girl and want to spare her from these brutes that call themselves adults, including her parents who dislike their own child.
The copy I bought was the 30th-anniversary copy, mainly as I love a hardback book and partly because I loved the cover and the colour – yes I am that easily pleased.
Within the book is artwork by Quentin Blake who illustrated I think all of Roald Dahl's work. He has a way with his artwork that not only brings the story to life but makes you laugh and connect with the characters too.
Part of me is glad that I never this book as a child as I got to appreciate it as an adult and part of me thinks I missed out on such a fabulous book that would have made me constantly giggle and frown.
Overall, this is a book that still after all these years works in today's society. It was great fun to read and this edition would make a wonderful gift too.
Book Reviewer – Stacey
---
Purchase online from:
---
About the Author

The son of Norwegian parents, Roald Dahl was born in Wales in 1916 and educated at Repton. He was a fighter pilot for the RAF during World War Two, and it was while writing about his experiences during this time that he started his career as an author.
His fabulously popular children's books are read by children all over the world. Some of his better-known works include James and the Giant Peach, Charlie and the Chocolate Factory, Fantastic Mr Fox, Matilda, The Witches, and The BFG.
He died in November 1990.


---
What did you think of Matilda? Share your thoughts in the comment section below!
---
The above links are affiliate links. I receive a very small percentage from each item you purchase via these link, which is at no extra cost to you. If you are thinking about purchasing the book, please think about using one of the links. All money received goes back into the blog and helps to keep it running. Thank you.
Like us on Facebook – Tweet us on Twitter – Pin us on Pinterest