Quite by Claudia Winkleman – Book Review
Quite by Claudia Winkleman – Book Review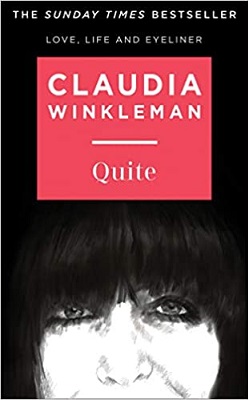 Quite
Love, Life and Eyeliner
Author – Claudia Winkleman
Publisher – HQ
Pages – 256
Released – 1st October 2020
ISBN-13 – 978-0008421656
Format – ebook, paperback, hardcover, audio
Review by – Stacey
Rating – 5 Stars
I received a free copy of this book.
This post contains affiliate links.


Funny, moving and truthful… Quite
Claudia Winkleman's warmth, humour, no-holds-barred attitude and smoky eye have made her the favourite broadcaster of millions and a much-loved household name.
In this, her first ever book, Claudia invites us all into her world. She shares her observations on topics such as the importance of melted cheese, why black coats are vital, how it's never okay to have sex with someone who has an opinion on your date outfit, how nurses are our most precious national treasure, and why colourful clothing is only for the under 10s (if you're reading this sporting a bright red jumper and you're 9, great! If you're older, sorry).
This is a love letter to life – the real, sometimes messy kind. Quite celebrates friendship, the power of art, the highs and lows of parenting, and of course, how a good eyeliner can really save your life.
Heartfelt, wry and unmistakably Claudia, this book gets to the heart of what really matters.

In presenter Claudia Winkleman's first book she talks about life. From children to husbands, clothes to footwear, celebrities to Strictly, (sorry I'm not a fan), she covers all aspects that she has an opinion on.
The book is split into six sections, each beginning with the word 'Quite' and followed by:-
– Important (to me)
– Big
– True
– Inconvenient
– Bossy
– Opinionated (I know).
Within these six sections are different topics that Claudia felt passionate enough to write about (plus a section on squirrels her son made her add 🙂 ). You might not agree with everything Claudia has to say about life, you might think that some of the things that she talks about are definitely not the way you see things or run your life and that is okay. She is not preaching at you, telling you to change your life, she is merely telling you her thoughts on the subjects.
There were sections where I totally agreed with her. Especially the topics of ankle books (I've lost count of the number of pairs that I own and have since being a teen), to her take on famous people, I don't buy into all this celebrity stuff I just see people doing their jobs, whether that be a musician, actor, or presenter (sorry). But I do feel for those that have no control over their lives once they become famous.
Claudia has a way with words, she makes you smile with her honest opinions and her openness. she even made me laugh on occasions. The book left me with a feel-good feeling and I sat and read it in one go, though it will be a book I will return to and go over again.
For anyone thinking that this might be an autobiography, it isn't. Yes, she talks a lot about her life, family, friends within the pages but this is her take on the way to live your best life.
If you love brightly coloured clothes, wearing kitten heels, and green eyeshadow then you might not like what Claudia has to say. This is a beautiful book that isn't preachy, nor is it a serious book. It is a book that will make you smile. It is relatable, clever, and had me strangely wanting to hear more about topics Claudia has feelings on.
Book Reviewer – Stacey
---
Purchase online from:
---
About the Author

Claudia Winkleman is one of the best known broadcasters in the UK, she won the RTS Award for Best Presenter in 2015, the WFTV award for Best Presenter in 2019 and has been BAFTA-nominated. Claudia currently co-hosts Strictly Come Dancing (BBC1) alongside Tess Daly and also has a Sunday night show on BBC Radio 2. Claudia also fronts the BBC1 cookery competition series Britain's Best Home Cook alongside Mary Berry, which first aired in 2018 and will return to television screens again next year. She also regularly appears as a guest on panel shows including QI, 8 Out of 10 Cats, Big Fat Quiz of the Year and Would I Lie To You.
Claudia has previously presented four series of The Great British Sewing Bee and was the host of BBC Film. Claudia is also a trustee of Comic Relief and has fronted the live television shows for both Red Nose Day and Sport Relief, along with spin-off shows including Let's Dance for Comic Relief/ Sport Relief and the Comic Relief Danceathon.
As part of the Strictly family, Claudia first presented Strictly Come Dancing: It Takes Two before joining Tess Daly on the main show in 2014. The following year she also hosted The People's Strictly.
Claudia graduated from Cambridge University with an MA Honours in History of Art. She lives in London with her husband and three children.


---
What did you think of Quite? Share your thoughts in the comment section below!
---
The above links are affiliate links. I receive a very small percentage from each item you purchase via these link, which is at no extra cost to you. If you are thinking about purchasing the book, please think about using one of the links. All money received goes back into the blog and helps to keep it running. Thank you.
Like us on Facebook – Tweet us on Twitter – Pin us on Pinterest