'Twas the Fight Before Christmas by Josie Lloyd & Emlyn Rees – Book Review
'Twas the Fight Before Christmas by Josie Lloyd & Emlyn Rees – Book Review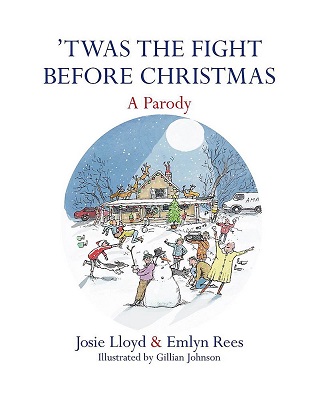 'Twas the Fight Before Christmas
Author – Josie Lloyd & Emlyn Rees
Illustrator – Gillian Johnson
Publisher – Constable
Pages – 32
Released – 17th November 2016
ISBN-13 – 978-1472125118
Format – ebook, paperback
Review by – Stacey
Rating – 5 Stars
This post contains affiliate links.


'Tis the season to be jolly. But as any modern family knows, 'tis also the season to be micro-managed by your in-laws, guzzle too many sherries, fight over the TV remote, and panic about your internet shopping not arriving on time.
But if you think that's bad, just wait until you meet the Jones family. Instead of this being their best Christmas ever, this might just be their last – especially if they don't all pull together to help their surprise guest in his hour of need.
An uproariously funny update of the traditional Christmas Eve classic – that all the family can enjoy.

A parody take on the classic 'Twas the Night Before Christmas poem by Clement Clarke Moore, authors Josie Lloyd and Emlyn Rees have brought the 19th Century poem bang up to date and made it hilarious too. They have included references to social media, movies, internet ordering, and even an Amazon Drone.
The book is about a family who is having Christmas issues and their extended family coming over to stay for Christmas. From the opening 'Twas a fight before Christmas, when all through the house, not a creature was smiling, not even a mouse. I was hooked. I even read it aloud to my husband who sat giggling.
Although the synopsis does state that the book can be enjoyed by all the family. It does contain some swearing, so possibly not for your little ones.
The illustrations are fab and really capture the mayhem. They alone would give you a laugh.
Out of the four books by these authors that I have read and reviewed, this one is my favourite. Whilst some of the plot is familiar in that I've been part of those Christmases, I'm glad to say I've never been involved in a punch up with my neighbours.
If you are looking for a fun book for Christmas for the family, or even a Secret Santa gift this would be perfect.
Book Reviewer – Stacey
---
Purchase online from:
---
About the Author
Josie Lloyd & Emlyn Rees are the bestselling authors of Switch It Off!, Come Together, A Twist of Fate, Hunted and many more. They're married and live in Brighton with their three children.


---
What did you think of 'Twas the Fight Before Christmas? Share your thoughts in the comment section below!
---
The above links are affiliate links. I receive a very small percentage from each item you purchase via these link, which is at no extra cost to you. If you are thinking about purchasing the book, please think about using one of the links. All money received goes back into the blog and helps to keep it running. Thank you.
Like us on Facebook – Tweet us on Twitter – Pin us on Pinterest