After the Fact by Jeff Cooper – Book Review
After the Fact by Jeff Cooper – Book Review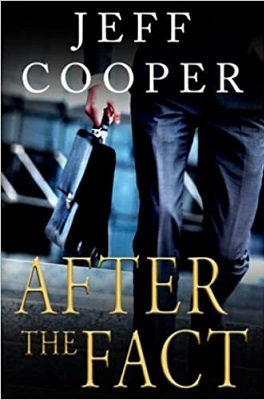 After the Fact
Author – Jeff Cooper
Publisher – Red Adept Publishing
Release Date – 28th October 2021
Pages – 272
ISBN 13 – 978-1948051835
Format – ebook, Paperback, Audio
Star Rating – 5
I received a free copy of this book.
This post contains affiliate links.

Synopsis
When Jack Collins leaves a small Connecticut law practice to join one of the nation's most prestigious firms, he trades a nondescript office for an elite one in a gleaming New York City skyscraper. He basks in the pride of working with people far more glamorous than those he left behind, including a famous boss, an alluring coworker, and a well-known client, Abigail Walker, the wealthy widow of a senator.
Jack thinks he's on the path to glory, but he's really a victim of deceit, a pawn in a game he doesn't even know he's playing. His new boss harbors deep secrets, his seductive coworker is not the person he thinks she is, and his new law firm is at the very center of a blackmail plot involving the widow Walker.
Blinded by the allure of wealth and power, Jack doesn't see the danger around him. Time is running out for him to figure out the truth before he loses everything: his career, his marriage, and maybe even his life.
Jack Collins is a guy who always makes the safe choice. But toiling at his father's staid law practice in Stamford, Connecticut can't compete with the appeal of working for one of the flashy New York firms. Reluctantly, Dad uses his extensive contacts to land Jack a job at the prestigious partnership of Reynolds & Harris.
When Jack first sees the spectacular view from R&H's 44th floor offices at 1593 Broadway (in real life, the address is in the middle of 48th Street), he feels he's on his way. The partner he works under, Ted Parker, is a legendary figure in the New York legal world. The associate he's paired with, Deb Miller, is an aggressive go-getter who is on track to a partnership. What could be wrong with this setup?
Quite a bit, it turns out. The illustrious Ted may be involved in a blackmail scheme targeting the widow of a prominent senator and the firm's most prestigious client. Everyone at R&H despises Deb as an overly ambitious (and vicious) double-crosser. And somebody is setting Jack up to take the fall for some serious financial crimes. In this backstabbing environment, will Jack be able to maintain his integrity, keep his marriage intact, and, more importantly, stay out of prison—or the morgue?
After the Fact is an entertaining story of greed, ambition, and double-dealing. I easily related to Jack Collins. After all, who hasn't regretted not taking a bold step at least a time or two in their life? Jack's desire to break his conservative mold and make his mark in the big leagues is as believable as it is understandable. But Jack is also a bit naïve. He's a trusting soul, which means he doesn't see the web of conspiracy being woven around him, nor does he realize that sometimes people who appear to be allies are instead enemies. This sets him up for real trouble down the line.
If Jack is a believable character, so are those in the supporting cast. The reader gets to know them as the point of view shifts from character to character with almost every chapter. While the changing perspective might be annoying in some cases, I didn't find it a problem with this book. Instead, the author uses this technique to do a slow reveal of the main characters' backgrounds and motivations.
This book is not a detective story. Instead, the reader has a fly-on-the-wall's view of the crimes and betrayals as they take place. Readers don't get all the facts at once, but that just makes the next chapter more enticing. The plot is complex, but not so much so that it taxes believability. Instead, it's a multifaceted story that kept me engaged from prologue to epilogue.
I thoroughly enjoyed After the Fact and if you like a good thriller, you should, too.
---
Purchase Online:
Jeff Cooper

Jeff Cooper is a law professor, lawyer, former Presidential candidate, and published author of both fiction and nonfiction. A graduate of Harvard College, Yale Law School and New York University School of Law, he spent much of his career working in the law firms and trust banks fictionalized in his novels.
Born and raised in New York, he now lives in Greenwich, Connecticut, where he has served as an elected member of the Representative Town Meeting, a Justice of the Peace and a Director of several non-profit organizations. When he's not teaching or writing, he can be found on the golf course.
Author Links:
---
Share your thoughts on After the Fact in the comment section below!
---
The above links are affiliate links. I receive a very small percentage from each item you purchase via these links, which is at no extra cost to you. If you are thinking about purchasing the book, please think about using one of the links. All money received goes back into the blog and helps to keep it running. Thank you.