Dream Accomplished by Elizabeth Gross – Book Review
Dream Accomplished by Elizabeth Gross – Book Review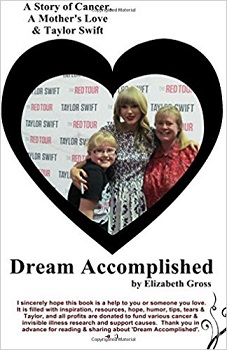 Dream Accomplished
A Story of Cancer, A Mother's Love & Taylor Swift
Author – Elizabeth Gross
Publisher – MEP of Ohio, Inc
Pages – 288
Released – 21st December 2015
ISBN-13 – 978-0997107203
Format – ebook, paperback
Reviewer – Julie
Rating – 4 Stars
I received a free copy of this book
Post contains affiliate links.
"You have cancer". Those words changed my life. After I heard them, all I could think was, "My daughter's only 8". It just over whelmed me. "How many dreams would I be able to help her make come true?"………
Hello, my name is Elizabeth Gross. This is the true story of my cancer journey. I've written it to say thank you to my daughter's hero, Taylor Swift, and to help and inspire others as they, too, battle cancer or invisible illness.

'Dream Accomplished' is a factual account of the author's fight against an uncommon form of bone marrow cancer.  Elizabeth Gross wasn't an author prior to sharing her story but nonetheless, has put together a very comprehensive narrative of important events since her life-changing diagnosis.
The structure of the book is well-defined and, in spite of her concerns regarding her proofreading abilities, there are no major errors.  Elizabeth has written her tale in the first person and has added some lovely family photos to help bring the story to life.
I think the definition section at the back of the book will be helpful for many readers. As a UK NHS medical administrator, I had a small advantage as I am familiar with some of the terminology, although the spellings aren't always quite the same in Britain – we like to shove an extra 'A' into such words as 'haematology', 'leukaemia' and 'anaesthesia'.
I found the first half of the book very revealing; I rather naively believed that as American citizens organised and financed their own healthcare, they had a first class service but Elizabeth's experiences of care was at times haphazard, to say the least.
Undoubtedly her unusual form of cancer (Myeloproliferative Neoplasm Disorder – Essential Thrombocytosis) meant that an established treatment pathway wasn't readily available but at times her basic health care needs seemed to be sub-optimal.  Her specialists were giving her conflicting information and contradicting each other, which inevitably caused great distress and uncertainty. It is testimony to the strength and clarity of her writing that I was deeply disturbed by this.
The second half of the book is devoted to 'Taylor Time' and helping her daughter, Page make some amazing memories to treasure. In addition, whilst it wasn't Elizabeth's primary goal, I think focusing on this project probably helped holistically as a coping strategy with the management of her condition.
No one could fail to be moved by the roller-coaster journey Elizabeth and her family have travelled since her diagnosis.  I'm sure the process of writing the book has been cathartic and will help others who find themselves in a similar situation.  Whilst at times we witness frustration and despair, what comes shining through every chapter is the overwhelming love, strength and support this tight knit family have for each other.
I commend Elizabeth Gross for the passion and courage she has demonstrated in sharing her story with the world and wish her a rich and fulfilling future.  Objectively, I award 'Dream Accomplished' four stars.
Reviewed by Julie
---
Purchase online from:
---
About the Author
Elizabeth Gross is a Wife, Mother, Cancer Battler, Invisible Illness Spoonie, Wildlife Gardener, Guest Blogger, Good News Sharer, Chocoholic, Dream Accomplisher & SwiftieMom.
She's proud to now be able to also add 'Award-Winning Author' to this list (Yay!!) Most days you'll find her singing along to Taylor Swift songs as she types away on her laptop or gardens with her husband, Marc, and their daughter, Page, on their Hudson, Ohio 'Little Lot'.



---