Nudges From Grandfather by Chris Kavelin – Book Review
Nudges From Grandfather by Chris Kavelin – Book Review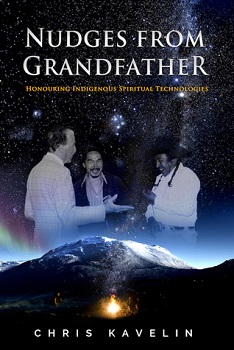 Nudges From Grandfather
Honouring Indigenous Spiritual Technologies
Author – Chris Kavelin
Pages – 235
Release Date – 23rd April 2016
Format – ebook, paperback
Rating – 5 stars
Reviewer – Teresa
I received a free copy of this book
Post Contains Affiliate Links

Is there a "next world"? Are loved ones who have died somehow still with us?
In 1938 the German Reich inflicted a wave of violent, all night attacks on several Jewish communities (Kristallnacht). Far away in Australia, William Cooper, a distinguished Elder of the Yorta Yorta Nation, led a little-known march to the German Consulate to deliver his letter protesting the violation of those human rights.
How contemporary Jewish and Aboriginal communities re-connected with that protest is but one chapter in a book recounting true stories of many miraculous chains of events.
Each chapter has its own story, each story its own theme, but common throughout are lessons on the reality of spiritual technologies: following steps of prayerful, contemplative action; acting with ceaseless energy; working mindfully with ancestors; and expressing gratitude for the emerging blessings.
We are each connected with the spiritual realm. Some may call spiritual forces ancestors, others angels or still others, the names of forms of divine power in their traditions. Whatever their names, these forces work intimately with us when we seek to be of service to others. When asked to perform an act of service beyond one's abilities or education, there are those in the next world who can assist us.

One could say that "Nudges from Grandfather: Honouring Indigenous Spiritual Technologies" by Chris Kavelin is a book that found me, and in more ways than one. I feel no need to address the matter of expectations, for there truly were none. I started with an open mind and reached the end with an open heart. This is not the kind of reading one finishes; it's the kind of reading one begins with.
I believe "Nudges from Grandfather: Honouring Indigenous Spiritual Technologies", is, first and foremost, a diary. You are invited into someone's life, and, consequently, into the lives that someone himself has been invited into. It's an open offer, though.
The book doesn't impose itself on you; it doesn't ask you for any kind of compromise. You relinquish what you want, can and are ready to, and it simply returns the favour. You can come and go, paving your own path through these stories that are very much alive.
There's a perpetual feeling of hope, of possibility, in these pages. I am afraid I won't be able to do it justice. Not only is it a book about personal experiences, I also believe it is a book that needs to be personally experienced.
"Nudges from Grandfather: Honouring Indigenous Spiritual Technologies", is the beginning of an inspiring, moving, and at times humorous, journey. It does feel like you are listening to a grandfather figure sharing the love, which in itself comes hand in hand with a universe of other emotions, behind each and every battle scar from being really and truly alive. It doesn't ask you to believe in anything; you will find what you need.
Thank you, Chris Kavelin, "I won't ever forget the joy of meeting you".
Book Reviewed by Teresa
Purchase Links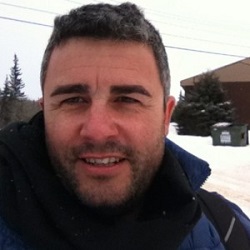 Chris Kavelin has a PhD in Law with a thesis on 'The Protection of Indigenous Medical Knowledge: Transforming Law to Engage Indigenous Spiritual Concerns'. He is an honorary research fellow at Australia Catholic University.
Chris has tracked down a number of major pharmaceutical drugs back to origins in Aboriginal communities. He works in supporting the sovereignty of networks of traditional healers around the world. His latest book is Nudges from Grandfather: Honouring Indigenous Spiritual Technologies. He is currently writing a book about discovering that the most important campaign of WWII was directly dependent on Aboriginal people and knowledge.
Chris's father was a psychologist that specialised in Indigenous psychology. They lived on the Wind River Indian Reservation in Wyoming where Chris experienced his own spiritual and cultural blindness. His awareness of his own blindness and learning about the practice of humility as a means of restoration of vision is something that has informed his research methodology ever since.
Author Links