Toksvig's Almanac 2021 by Sandi Toksvig – Book Review
Toksvig's Almanac 2021 by Sandi Toksvig – Book Review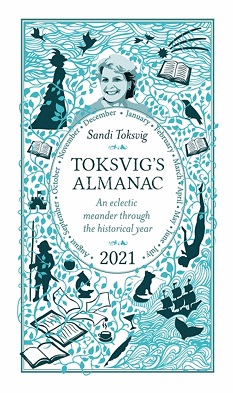 Toksvig's Almanac 2021
An Eclectic Meander Through the Historical Year
Author – Sandi Toksvig
Publisher – Trapeze
Pages – 368
Released – 12th November 2020
ISBN-13 – 978-1398701632
Format – ebook, hardcover, audio
Rating – 5 Stars
This post contains affiliate links.


Synopsis
'Toksvig's Almanac is intended merely as a starting point for your own discoveries. Find a fabulous (or infamous) woman mentioned and, please, go looking for more of her story. The names mentioned are merely temptations. Amuse-bouches for the mind, if you like. How I would have loved to have written out in detail each tale there is to be told, but then this book would have been too heavy to lift.'
Let Sandi Toksvig guide you on an eclectic meander through the calendar, illuminating neglected corners of history to tell tales of the fascinating figures you didn't learn about at school.
From revolutionary women to serial killers, pirate nuns to pioneering civil rights activists, doctors to dancing girls, artists to astronauts, these pages commemorate women from all around the world who were pushed to the margins of historical record. Amuse your bouche with:
Belle Star, American Bandit Queen
Lady Murasaki, author of the world's first novel
Madame Ching, the most successful pirate of all time
Maud Wagner, the first female tattoo artist
Begum Samru, Indian dancer and ruler who led an army of mercenaries
Inês de Castro, crowned Queen Consort of Portugal six years after her death
Ida B. Wells, activist, suffragist, journalist and co-founder of the NAACP
Eleanor G. Holm, disqualified from the 1936 Berlin Olympics for drinking too much champagne
These stories are interspersed with helpful tips for the year, such as the month in which one is most likely to be eaten by a wolf, and the best time to sharpen your sickle. Explore a host of annual events worth travelling for, from the Olney Pancake Race in Wiltshire to the Danish Herring Festival, or who would want to miss Serbia's World Testicle Cooking Championship?
As witty and entertaining as it is instructive, Toksvig's Almanac is an essential companion to each day of the year.
I adore Sandi Toksvig with her quick wit, comedy, and her knowledge so I was looking forward to hearing what she had to say about a year full of women from history that we don't get to hear about very often, and most you will probably never have heard of.
The book is set into monthly chapters and then date order, with each date featuring a woman who was born or died on that day. Sandi has provided us with enough information about each woman and set the intrigue so that you then look her up and find out more about her life.
Some of the most impressive tales I read included Begum Samru who not only was female but also just 4'8″ tall and yet she led an army of 3000. She even called herself Joanna after Joan of Arc. Sofia Ionescu-Ogrezeanu was one of the world's first female Neurosurgeons and Maria Teresa De Filippis the first woman to race in Formula One.
As well as the women, Sandi has also written an entry to each month telling you about some of the facts of that month including why it got its name, what it is also known as. She also includes festivals found within the month and a poem.
I started at the beginning of the year reading about a woman a day but as the days went on I found that it wasn't enough I wanted to keep on reading and so we are now in March and I have finished it, though I will keep on re-reading sections throughout the year and probably beyond too.
The book is amazing. You can hear Sandi's voice as you read as it has been written just as she speaks. It is entertaining, informative, engaging and I hope that she writes another book just like it, whether with more women or next time men.
Purchase Online From:
---
What did you think of 'Toksvig's Almanac 2021'? Share your thoughts in the comment section below!
---
The above links are affiliate links. I receive a very small percentage from each item you purchase via these link, which is at no extra cost to you. If you are thinking about purchasing the book, please think about using one of the links. All money received goes back into the blog and helps to keep it running. Thank you.
Like us on Facebook – Tweet us on Twitter – Pin us on Pinterest