Far Away and Further Back by Patrick Burns – Book Review
Far Away and Further Back by Patrick Burns – Book Review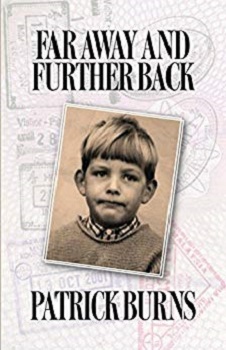 Far Away and Further Back
Author – Patrick Burns
Publisher – Createspace
Pages – 194
Released – 2nd May 2018
ISBN-13 – 978-1986213875
Format – ebook, paperback
Reviewer – Pranav
Rating – 4.5 Stars
I received a free copy of this book.
Post contains affiliate links.
After his first overseas assignment to the USA in 1975 – just twenty-three with a suitcase and a guitar – corporate nomad, Patrick Burns, kept on moving from country to country rarely declining a fresh challenge in a new location. In these stories from four decades of living and working around the world, he relives some of his most memorable experiences: from dangerous pyrotechnic liaisons in the Algerian desert to a quest to find the Archbishop of Rangoon after a chance meeting in an English village church. The locations and circumstances run the gamut of the quotidian to the exotic; context and time are less relevant than who is met, what transpires and how the experience says something about the human condition.
This exploration of the personal landscape of expatriate life is interwoven with a navigation of some of the ties that have bound his unusual Anglo-German family during the past century; a mixture of hardcore Yorkshire eccentricity (including a grandfather whose obsession with installing indoor toilets inadvertently led to a twenty-five year family rift) and a liberal academic, Hanoverian heritage disoriented by Hitler, the events of 1939-45 and Cold War detente.

Far away and Further Back is a memoir of 'cultural nomad' Patrick Burns, as he traces his journey and random encounters in it. He displays his amazing attention to details, as he switches effortlessly between the 60s and 70s, to this millennium; between the hustle-bustle of New York to the lesser-known places in Indonesia and Malaysia. The book follows a short story collection route, and you will totally love it how they are heartwarming at most of the times!
The author does a commendable job at not overdoing the autobiographical part. It is more about the people, living in far corners; some migrants to the nation and some giving good memories to him. He shares anecdotes from his childhood, all the way to him developing feelings for her 'sister figure' and finally his corporate travel experiences. The number of places covered in the memoir ranges all over the world, and gives you a colourful, almost first-hand experience of driving thorough rural Singapore, hearing accounts of second world war, to having a drink in rural Vietnam. You'll just love the way it all goes!
When I picked up Far Away and Further Back, I thought it'll be a journey filled with typical autobiographical stories. After I was done with it, dare I say, I thoroughly enjoyed it. The book caters to all age groups and everyone will find something to relate you. I will give this a 4.5 stars and will recommend this to everyone. A must read once.
Reviewed by Pranav
---
Purchase online from:
---
About the Author
In 2009, after more than thirty-five years of climbing, clinging onto, and occasionally sliding down the corporate ladder, Patrick Burns retired from an international business career in Human Resources. An opportunity to work on regional and global projects led to an early specialization in international HR and the chance to live and work all over the world. This included four assignments to Asia, where he spent a total of eighteen years, as well as other regional roles covering Europe-Africa, the Middle East and North and South America.
Patrick was born in Yorkshire in the UK and now lives just outside San Francisco. He is married with four children.
The above links are affiliate links. I receive a very small percentage from each item you purchase via these link, which is at no extra cost to you. If you are thinking about purchasing the book, please think about using one of the links. All money received goes back into the blog and helps to keep it running. Thank you.