Slow by Gizzi Erskine – Book Review
Slow by Gizzi Erskine – Book Review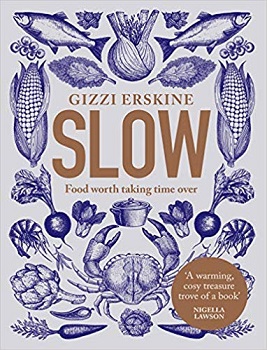 Slow
Food Worth Taking Time Over
Author – Gizzi Erskine
Publisher – HQ
Pages – 256
Released – 18th October 2018
ISBN-13 – 978-0008291945
Format – ebook, hardcover
Reviewer – Stacey
Rating – 4 Stars
I received a free copy of this book.
Post contains affiliate links.
Food worth taking time over.
In a world where we have less and less time, Gizzi Erskine breathes new life into the idea of 'slow'.
Embrace technique, understand the stories behind your ingredients and learn to savour the art of cooking again. The result of a life-long affair with food, Slow shows you how to braise, bake, poach and roast to truly make the most of every flavour.
From nourishing stews, melt-in-the-mouth roasts and indulgent puddings, to simple guides to making your own pasta, noodles, dumplings and pastry, each one of over 100 delicious recipes tells the story of Gizzi's passion for food that's worth waiting for.

This is the first time I have written a review for a cookbook, but when I made one of the recipes in this book (I've now made it three times), and everyone kept asking for more I knew I had to write a review about it.
'Slow', is a cookbook with a difference. In a world where everything moves along fast and we have trouble waiting for the simplest of things – such as a web page to open, Slow is all about taking your time with cooking and getting back to basics.
The book is split into categories – Soups and Stews, Poach and Steam, Braise, Bake, Roast, Dough, and Basics. Within these categories you will find recipes for food you will love and know and if you are like me, some that you have never heard of before.
The book covers both sweet and savoury and unlike most cookbooks which have a dessert section, the desserts in this book are within their designated categories. Talking about desserts it is one of these that I mentioned earlier that everyone loved. 'Lemon Sherbet Meringue Pie' – It is called Sherbet because it has a sour taste to the lemon, one that makes your eyes squint. It also contains a small amount of Gin too.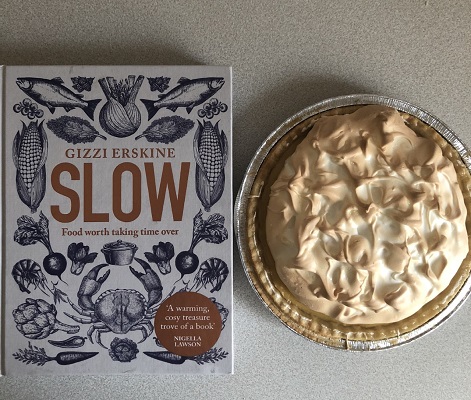 The book is simply beautiful both on the inside and out and what you can make from within the pages. When I find the time I am going to give 'Pork and Apple Stroganoff with Hot Dog Onions' ago and see if I can make my dish look like the delicious photo. I just need to find a spare 2.5 hours free.
Reviewed by Stacey
---
Purchase online from:
---
About the Author
Gizzi Erskine has been a columnist for The Sunday Times Magazine, Contributing Editor for InStyle and has written for a wide variety of other magazines and newspapers such as Marie Claire, Elle, Elle USA, Vogue USA, GQ, The Times and the Evening Standard. Her previous books include Cook Yourself Thin, Gizzi's Kitchen Magic, Skinny Weeks & Weekend Feasts and Gizzi's Season's Eatings.


---
The above links are affiliate links. I receive a very small percentage from each item you purchase via these link, which is at no extra cost to you. If you are thinking about purchasing the book, please think about using one of the links. All money received goes back into the blog and helps to keep it running. Thank you.