The World Peace Journals by Ben Gilbert – Book Review
The World Peace Journals by Ben Gilbert – Book Review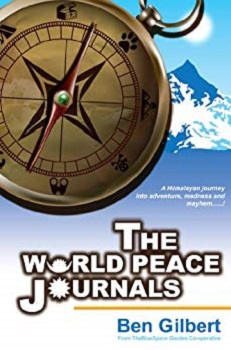 The World Peace Journals
Author – Ben Gilbert
Publisher – Garuda Books
Pages – 278
Released – 21st November 2013
ISBN-13 – 978-0615924281
Format – ebook, paperback
Reviewer – Clive
Rating – 3 Stars
I received a free copy of this book
A Himalayan journey into madness, mayhem and adventure!
It documents a Nepal not spoken or written about in other travel or adventure stories – not sparing the reader from harsh realities, corruption and madness; a sojourn into the Himalayas that succinctly captures the myths, history, geography and people in a way that shocks but also brilliantly entertains.
Ben Gilbert has obviously lived a varied and exciting life so it is correct that he should put pen to paper to record those events. I am pleased to have read The World Peace Journals and I learned a great deal from it but I believe that it could have been done better.
So, what was good? Well, the first hand descriptions of Nepal were generally excellent.  The author told us about stunning and varied scenery, extreme poverty and hardship, constant tensions between races and castes, traditions, beliefs and corruption. We also heard about the power of the landscape and the elements. When he is good, Ben Gilbert can be very good.
We also had an interesting and tense story about Hana's trek which was placed in the middle of the book and which filled a good third of the text. This story had it all with technical difficulties, danger and interesting relationships between the characters. Placed in isolation this story would have made an interesting novella.
Unfortunately the telling of most of the other treks fell into a depressing pattern. There were constant fights and disagreements between Ben and his fellow guides, usually fuelled by excessive drinking of the local alcoholic drinks. I say alcoholic but the glossary at the end of the book explains that the local beer is made using intoxicating local herbs. The book, which had been set virtually all in Nepal, then ended with a dreary little tale about looking for canyons in Japan accompanied by dogs; all very odd.
All things considered, I found The World Peace Journals to be a mixture.  If like me you have little knowledge of Nepal or trekking it is definitely worth a read but be prepared for some dull and repetitive sections.  I have awarded three stars.
Reviewed by Clive
---
Purchase online from:
---
About the Author
Ben Gilbert is an outdoor guide, explorer, life coach and writer. He is a Fellow of the Royal Geographical Society and founder of TheBlueSpace Guides Co-operative

---
Blog posts straight to email via Bloglovin – Like us on Facebook – Follow us on Twitter