Lake District Trail Running by Helen Mort – Book Review
Lake District Trail Running by Helen Mort – Book Review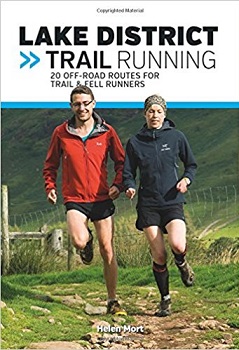 Lake District Trail Running
20 off-Road Routes for Trail & Fell Runners
Author – Helen Mort
Publisher – Vertebrate Pub
Pages – 120
Released – 1st July 2016
ISBN-13 – 978-1910240724
Format – paperback
Reviewer – Clive
Rating – 4.5 Stars
I received a free copy of this book
Post contains affiliate links
Lake District Trail Running is a comprehensive guide to off-road running in the Lake District National Park. With 20 runs, from 5.1km to 17km in length, this book is suitable for runners of all abilities.
The fells and valleys of the Lakes are a playground for the adventurous runner this is the home of many classic fell races, and of course the legendary Bob Graham Round. In this book, author Helen Mort has collected together many of her favourite Lakeland runs, from low-lying and scenic lakeside cruises, to steep mountain climbs and remote and wild enchainments.
Discover Grasmere, pick your way along the Haystacks ridge, explore Grisedale or run around Lakeland icons, such as Buttermere and Ennerdale Water. More experienced runners can challenge themselves on bigger and longer excursions to Fairfield and above Troutbeck.
Features clear and easy-to-use Ordnance Survey 1:25,000 maps, easy-to-follow directions, details of distance and timings, refreshment stops and local knowledge, and a detailed appendix.

It is almost as if this book was written personally for me! I regularly walk the Cumbrian Fells and at home I run three or four times each week. The significant difference is that I have yet to combine the two activities. My fell walking has always been in a stout pair of boots with a full bag of extra clothing and food; my running is restricted to relatively flat 5k/3mile runs, usually on pavements and local footpaths.
In the course of my fell walking I have regularly been passed by fell runners who I have admired but to date I have never had the courage to join them. In particular I worry about slippery stone paths, especially the steep descents.
This book has caused me to change my mind.  Helen Mort starts with a comprehensive guide of the requirements and dangers of fell running. She also offers very useful and sensible advice which applies to all fell users not just runners. After this information section Helen lists her twenty suggested runs starting with relatively flat and well surfaced five kilometre runs, progressing steadily to culminate in two seventeen kilometre runs including the famous Fairfield Horseshoe. Each run has an introduction, details of nearby facilities and technical information including an altitude profile. Then we have a full page Ordnance Survey map and stage by stage directions.
On that latter point I would caution care. I personally have walked some part, if not the entirety, of seventeen of these twenty suggested routes and my feeling is that Helen's directions are frequently on the brief side.  Last May I found myself at the top of Fairfield in a howling gale with visibility of just a few feet, walking around with a fellow hiker trying but failing to find the path to Hart Crag. That was scary enough in full waterproofs, I would not want to be there in shorts and wet trainers. I'm not saying don't do it, just make sure that you follow the book's Introduction, do your own preparation and keep well within your limits.
Lake District Trail Running is one of many (large) pocket guides that Vertebrate Publishing have produced.
Helen Mort is ideally suited to write such a book. She is a published novelist and poet who is also an experienced distance runner including representing Yorkshire at cross country. She then moved to Grasmere for twelve months. I am not sure whether her intention was to develop her poetry by following the footsteps of Wordsworth, Coleridge and Southey.
Whatever the reason for her stay, Helen has used her time well. She has combined her running skills, her fitness and her love of the outdoors to produce this useful and inspiring book. I have awarded four and a half stars.
Reviewed by Clive
---
Purchase online from:
---
About the Author

Helen Mort is a poet and author from Sheffield, South Yorkshire. Her collection Division Street was shortlisted for the Costa Prize and the T.S. Eliot Prize and won the Fenton Aldeburgh Prize in 2014.
She was described by Poet Laureate Carol Ann Duffy as "among the brightest stars in the sparkling new constellation of young British poets". She is a Cultural Fellow at the University of Leeds, and one of the judges for the 2017 Man Booker International Prize.



---