The Secret of Rosalita Flats by Tim W. Jackson – Book Review
The Secret of Rosalita Flats by Tim W. Jackson – Book Review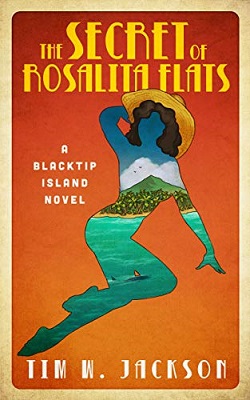 The Secret of Rosalita Flats
A Blacktip Island Novel
Author – Tim W. Jackson
Publisher – Devonshire House Press
Pages – 211
Released – 18th September 2020
Format – ebook
Review by – Clive
Rating – 4.5 Stars
I received a free copy of this book.
This post contains affiliate links.


There's trouble above and below the water on Blacktip Island.
Cal's a hapless watchmaker. Marina's a beautiful scuba instructor. They were friends as kids. Now, not so much. Together they'll solve the secret of Rosalita Flats. If the sharks don't get them first.
The Secret of Rosalita Flats is about a man trying to unload the football-shaped house he inherited, while dodging the backwater Blacktip Island's quirky collection of con artists, smugglers and other ne'er-do-wells: an ornery housekeeper who refuses to be fired, a rum-soaked attorney with his own agenda, a chair-wielding resort manager who thinks he's an avenging angel, and a self-styled psychic who may be able to see the future. There's also a mysterious someone–or something–trying to scare Cal off the island. Cal has to figure out what his old man was mixed up in, fast, if he's to sell the house and get off the crazy little rock alive.

As far as I can tell The Secret of Rosalita Flats is Tim W Jackson's third published novel following Mangrove Underground and Blacktip Island. He has also published some short stories on similar themes. In his writing he draws on his varied experiences with settings and activities that are familiar to him.
The book took my attention from the start through a combination of the attractive setting and Tim W Jackson's writing style which is clear and comfortable. It was very easy to follow the events, helped by good descriptions of the scenery and locations. The action scenes were lively and delivered without bad language or actual violence although it is implied at times. There is also a little romance but nothing too slushy or detailed. I did not collapse with laughter but the gentle humour kept a smile on my face.
Although the story is told in the third person the action follows Cal exclusively so we really get to know and understand him. His actions were believable and at no time did I get cross with him for doing something stupid. The other characters are a little stereotypical but that only helps to make the story easy to understand.
I particularly enjoyed the diving scenes and descriptions of local life. The island's scenery drew my attention, not just the expected beauty spots but also the less attractive areas such as the impenetrable bluff and the pungent Booby Pond.
Alongside the characters, the humour and the scenery there is also a rather good mystery. The title and the synopsis make it clear that there is a problem to solve but exactly what is far from clear. Tim W Jackson kept the interest going throughout with little teasers until a grand reveal at the end which still had a few surprises.
I highly recommend The Secret of Rosalita Flats and I hope to read the previous book, Blacktip Island shortly. I have awarded a nearly perfect 4.5 stars.
Book Reviewer – Clive
---
Purchase online from:
---
About the Author

Tim W. Jackson's first taste of scuba diving came at the age of six when he sneaked breaths off his dad's double-hose regulator in the deep end of the pool. Later, as an ex-journalist armed with a newly-minted master's degree in English, he discovered he was qualified to be a bartender, a waiter or a PhD student. Instead he chose Secret Option D: run off to the Cayman Islands to work as a scuba instructor and boat captain by day and write fiction at night. Two decades later, he still wishes that was half as interesting as it sounds. Or even a quarter . . .
Jackson is the award-winning author of the comic Caribbean novels Blacktip Island and The Secret of Rosalita Flats, as well as The Blacktip Times humor blog. His "Tales from Blacktip Island" short stories have been published in literary journals worldwide. He is currently concocting his next Blacktip Island novel and still enjoys scuba diving with his dad's old double-hose reg.




---
What did you think of The Secret of Rosalita Flats? Share your thoughts in the comment section below!
---
The above links are affiliate links. I receive a very small percentage from each item you purchase via these link, which is at no extra cost to you. If you are thinking about purchasing the book, please think about using one of the links. All money received goes back into the blog and helps to keep it running. Thank you.
Like us on Facebook – Tweet us on Twitter – Pin us on Pinterest